Ukraine Bank Deadlock Signals Fraught Restructuring to Citigroup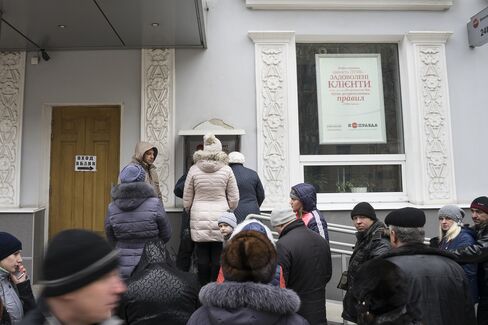 The relief rally in Ukrainian bonds may be premature if stalled talks between investors and the nation's state-owned trade bank are anything to go by.
The State Export-Import Bank of Ukraine is in deadlock over its request for a three-month breather on repaying $750 million of bonds due this month after failing to get support from creditors. The decision has been delayed until April 27, the day Ukreximbank's bonds are due.
Ukraine needs to restructure at least $23 billion of debt by the end of May to meet conditions for the next slice of International Monetary Fund aid after its yearlong conflict with pro-Russian insurgents drained reserves. Optimism over the cease-fire in the east of the country and debt-restructuring talks have pushed the price of its 2017 notes to a one-month high.
"These kinds of issues that we're seeing right now with Ukreximbank are just a harbinger for what's going to come," Ivan Tchakarov, a Moscow-based economist at Citigroup Inc., said by phone Tuesday. "If they can't agree on this one small bond, how are they going to agree on the rest of the debt? The negotiations are going to be quite fraught."
Ukraine, which needs to achieve cuts to debt-financing costs of $15.3 billion over four years to meet the conditions of its IMF bailout, is preparing for talks with creditors, including its biggest holder Franklin Templeton.
Russian Finance Minister Anton Siluanov told Rossiya 1 television on Tuesday the country will seek arbitration if Ukraine doesn't repay the $3 billion of bonds it holds that come due in December.
Washington Meeting
The government plans to present to investors on the sidelines of the IMF's spring gathering in Washington on Friday, the first meeting since a group, including Franklin Templeton and four other creditors, said last week Ukraine can achieve its restructuring goals without imposing a writedown on bondholders.
The price of Ukraine's $2.6 billion of Eurobonds due July 2017 rose 0.22 cent to 43.62 cents on the dollar by 2:07 p.m. in Kiev on Wednesday, the highest level since March 16 on a closing basis. Ukreximbank's bonds fell 0.07 cent to 61.93 cents on the dollar.
The sovereign notes have traded at a larger discount to the lender's debt since the Finance Ministry said on April 4 it planned to treat Ukreximbank and AT Oschadbank differently in the wider debt overhaul due to their importance to the country's economic recovery and banking system.
Specifically, the banks' debt will be excluded from targets to lower Ukraine's debt to 71 percent of gross domestic product by 2020 and the budget's gross-financing needs to an average of 10 percent of GDP from 2019 to 2025.
Quorum Change
Ukreximbank needed two thirds of investors to achieve quorum at the previous meeting and will need one third in the second. Of those who vote, it needs 75 percent in favor to pass the motion.
"Seems that the quorum for the April 27 meeting falls to just one third, so I guess everyone attends that meeting and one way or another it's D(ecision)-day for Ukreximbank," Timothy Ash, the chief emerging-markets economist at Standard Bank Plc in London, said by e-mail.
Bondholders Bence Sardi, a Dubai-based broker at Mint Partners, and Lutz Roehmeyer of Landesbank Berlin Investment GmbH are favoring a no vote because they expect it will force Ukreximbank to meet its obligations.
Stan Manoukian, the Agoura Hills, California-based founder of Independent Credit Research LLC, predicts failure to get an extension will lead to default.
"I think they will default because the payment of the bond has to be approved by the supervisory board of the bank and it has to do it 30 days in advance," he said by phone Tuesday.
Reserves Drop
Parallel to the debt talks, there are several channels for defusing the Ukraine conflict, which the United Nations says has killed more than 6,000 people. German, Russian, Ukrainian and French leaders are overseeing peace efforts, while the so-called contact group, comprising Ukrainian and Russian officials, separatists and international observers, meets separately to hammer out the implementation on the ground.
In addition, European, Russian and Ukrainian energy officials are engaged in discussions to resolve issues related to natural gas, for which Ukraine is a key transit route.
Ukraine's reserves slid by almost two-thirds to a record-low $5.63 billion in February before getting a boost last month from a $5 billion injection from the IMF. The country has said a failure to reach new terms on the 29 bonds and enterprise loans it is restructuring would jeopardize the second part of the IMF's $17.5 billion aid package.
It's "likely that some bondholders will be using this as an opportunity to test the resolve of the Ukrainian authorities, with the larger sovereign restructuring looming," Ash said.
Before it's here, it's on the Bloomberg Terminal.
LEARN MORE