The Only Way Is Up for Analysts Revising Hong Kong Targets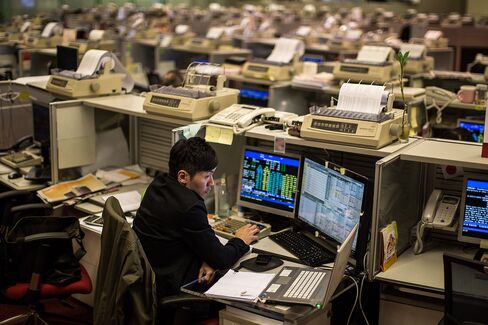 As Hong Kong's stock analysts rush to play catch-up to the city's world-beating rally, their only question is how far the gains will go.
Three brokerages boosted Hang Seng Index forecasts Monday, with Bocom International Holdings Co. expecting the measure to rally 14 percent to a record 32,000 by June. Credit Suisse Group AG's year-end projection of 28,000 was mown down in just a day, with the index up 2.7 percent yesterday to close above that level for the first time since 2007. Goldman Sachs Group Inc. raised its price target on the city's exchange operator by 61 percent, less than a week after its last increase.
Hong Kong shares, sidelined as the Shanghai Composite Index soared 94 percent over the past year, claimed bragging rights this month with the world's biggest gains. With a measure of momentum the highest on Monday since 1989 and the Hang Seng gauge trading above its 12-month forecast for the first time in five years, strategists are struggling to keep pace.
"In the short term it's very difficult to bet against the trend, so there will probably be more market strategists to turn more bullish and raise their index targets," said Kelvin Wong, a Hong Kong-based analyst at Bank Julius Baer & Co., which has about $296 billion under management and raised its Hang Seng Index target price to 28,500 on Friday. "We didn't expect the liquidity rally to come after Easter, so a lot of analysts got caught."
Bullish analysts say even after the gains, Hong Kong equities are cheap. The Hang Seng Index traded at 13.4 times estimated earnings Monday, compared with 16.5 for the Shanghai gauge and 17.7 for the Standard & Poor's 500 Index. The discount on Hong Kong shares compared with mainland counterparts widened to the most since October 2011 last month, helping draw cash from across the border. The Hang Seng Index slid 1.6 percent Tuesday, its first drop in nine days.
Chinese Investment
Bocom International's Hao Hong, who turned bullish on mainland shares just as the steepest four-month surge in seven years began in September, said Monday that an influx of Chinese money will drive the Hang Seng Index to unprecedented highs. He's also picking a gain of at least 30 percent for the Hang Seng China Enterprises Index of mainland shares, which has already risen 18 percent since the start of April.
Morgan Stanley raised its 12-month target for the Hang Seng Index to 30,000 from 26,800, citing a spillover of bullish sentiment from the mainland. Chinese investors used up their daily quota for buying Hong Kong stocks through Shanghai on two days last week for the first time since the program started in November. A Shenzhen replica of the exchange link is due to start later this year.
"The investor in Shanghai is realizing that there is a better risk-return opportunity on offer in Hong Kong," Jonathan Garner, Hong Kong-based chief strategist for Asia and emerging markets at Morgan Stanley, said in a phone interview Monday.
Market Momentum
The daily value of equities traded in Hong Kong has soared, climbing to an all-time high April 9, and sentiment in the options market is the most positive on record. The relative strength index on the Hong Kong benchmark measure rose to 89.4 Monday, the highest since February 1989. Traders see anything above 70 as signaling shares have climbed too fast.
"Even for me, who's been bullish in terms of a rally on fundamentals, I get a little bit nervous and cautious when I see a market rally so quickly, so aggressively," said Sam Le Cornu, who oversees about $3 billion in Asian equities at Macquarie Investment Management. "It's a liquidity rush. It's not fundamentally driven."
Biggest Winner
Hong Kong Exchanges & Clearing Ltd. led gains on the Hang Seng Index this month, surging 57 percent to close Monday at a record HK$297.40. It slipped 4 percent today. The bourse operator, now the world's biggest by market value, last week said its systems have plenty of capacity to handle greater inflows. Goldman Sachs increased its target price to HK$355 on the expectation that higher stock market volumes will boost profit. Morgan Stanley also raised its target, to HK$385 from HK$225.
Credit Suisse boosted its Hang Seng Index target for the end of the year to 28,000 from 27,000. Citigroup Inc. also raised its projection to 28,000 on April 10, from 25,000.
"The market has already made some big moves so there is no doubt that there will be a pull back at some point in time, but this is a change of sentiment towards the market and it's still at a very early stage," said Tony Chu, a Hong Kong-based money manager for RS Investment Management Co., which oversees about $20 billion. "It's too early to be contrarian."
Before it's here, it's on the Bloomberg Terminal.
LEARN MORE