Scene Last Night: Groff, Tambor, Shudlick, Wurth for LGBT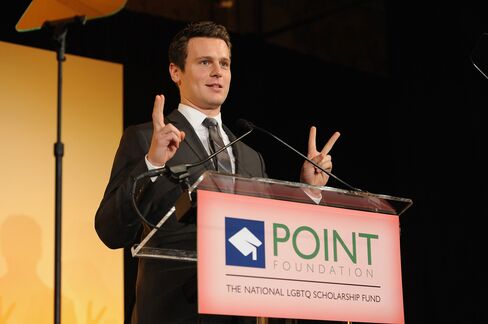 Jonathan Groff lifted up his shirt at a gala Monday night and did a belly roll.
The crowd yelped, with no one disappointed the fit actor hadn't shown us a sample of his current role in the musical "Hamilton," playing King George, or others like ice harvester Kristoff from Disney's "Frozen" and Patrick Murray of HBO's "Looking."
Instead, Groff covered his abs and shared a slice of his own life to support the Point Foundation, which presents scholarships to lesbian, gay, bisexual, transgender and queer students, pairing financial support with a mentor and leadership training.
"I was not out at all -- I was completely closeted," Groff, 30, said of a time when he had a boyfriend he called his "roommate," in his early 20s. "I was still very scared and very insecure about being gay."
Performing in the rock musical "Spring Awakening," Groff said he never invited his "roommate" to go out after with the cast and didn't pose next to him on opening night. At the Tony Awards, he let him sit in the back of Radio City Music Hall. "I am not proud of the way I treated my boyfriend," Groff said. "I was disrespectful, immature and cruel."
Personal Awakening
Eventually, his "Spring Awakening" experience, playing a rebel in a show about self-expression and the dangers of sexual repression, emboldened him. He came out and has gone on to roles about the gay experience in "Normal Heart" and "Looking."
"The most powerful weapon for change and acceptance is personal stories," Groff said to about 420 guests at the Point Honors. Among them: Johann Shudlick, a managing director at Goldman Sachs who leads the firm's LGBT Network, Douglas Wurth, chief executive officer of alternative investments at JPMorgan Asset Management, and crews from HSBC and Citigroup. The Wells Fargo tables were up front, cheering their own Tim Hanlon, who as president of the Wells Fargo Foundation has directed millions to AIDS causes.
Goldman partner Jennifer Barbetta, treasurer of Point Foundation's board, said her favorite parts of being involved are interviewing finalists and getting to know the Point Scholars.
The scholars attending the gala at the New York Public Library included Audrey Stewart, a student at Columbia Business School; Naomi Jackson, whose novel, "The Star Side of Bird Hill," will be published in June, and Rhys Ernst, an associate producer on the Amazon original series "Transparent," who helped prepare Jeffrey Tambor for his role on the show by taking him out to a transgender bar in character as Maura.
"I shook that night," Tambor said. "My legs shook because I was so nervous. And I said, 'Remember this, don't ever forget this moment because this, when you act, it's about saving lives, it's about making people safe.'"
Other actors present included "Transparent" co-stars Judith Light and Gaby Hoffmann, and Frankie J. Alvarez of "Looking."
(An earlier version of this story corrected Wurth's title.)
Before it's here, it's on the Bloomberg Terminal.
LEARN MORE