Lafley Pivots From Builder to Demolition Man as He Shrinks P&G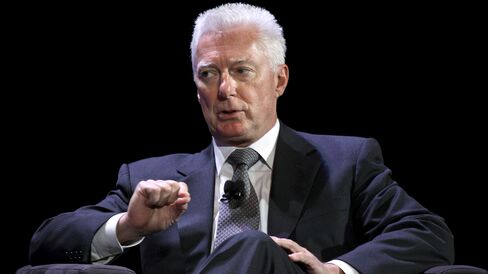 A.G. Lafley helped turn Procter & Gamble Co. into the world's largest consumer-products company. Now the builder has turned demolition man, shedding billions in assets because P&G is too large to compete.
Lafley, 67, interrupted his retirement in 2013 to revive P&G and telegraphed early on that he didn't plan to stay long. Having announced plans to exit as many as 100 product lines in the past two years, he's likely to step aside as chief executive officer by the annual meeting in October, according to people familiar with his plans. Before then, Lafley aims to divest at least $19 billion more in assets, slimming the company down to 65 leading brands, such as Tide, Crest and Pampers, which generate 86 percent of P&G's $83 billion in revenue.
"It's painful to dismantle something you built," said Davia Temin, who runs Temin & Co., a crisis management consultant. "Most CEOs I've worked with, when faced with this, say 'I'm a builder, let someone else shrink it,' but Lafley's showing he can pivot when that's what the business demands."
The question is whether a slimmer -- but still large -- P&G will be sufficiently nimble to win back consumers who've defected to cheaper brands or compete with a host of new rivals that are creating new niches with natural and organic products. Lafley was lionized during his first stint as CEO, when he boosted the company's portfolio of billion-dollar brands. But P&G watchers agree he should have taken an ax to costs and brands before the financial crisis and subsequent recession. Now, with his legacy on the line, Lafley is playing catchup.
Boardroom Focus
P&G is one of several large companies starting to question the benefits of scale. "Focus" is the latest boardroom buzzword as CEOs and directors debate the wisdom of managing multiple products. General Electric Co. is refocusing on its industrial past, Pfizer Inc. broke itself into three pieces and General Motors Co. emerged from bankruptcy with fewer brands.
"By shedding less profitable businesses, you can free up talent and shore up assets to use later for acquisitions around the world," says James Post, a professor at Boston University's School of Management. And Lafley, like other CEOs, has to be on guard against activist investors raising their voices to say, 'What you're doing isn't good enough.'''
In fact it was an activist investor -- Pershing Square's Bill Ackman -- who pushed for the removal of Lafley's handpicked successor, Bob McDonald. In the four years McDonald was CEO, P&G's return on common equity, a measure of profits returned to shareholders, was 41 percent lower than Unilever's and less than a fifth of Colgate's.
Simplified Structure
Lafley, who declined to comment for this story, has skipped most earnings calls with analysts since he returned to the corner office. Instead he's spent hundreds of hours huddled with staff to decide what's worth keeping. In the words of Gil Cloyd, Lafley's chief technology officer from 2000 to 2008: "He's not on the sidelines. He's in the mud with the team."
Demanding quicker presentations and decision-making, Lafley cut hour-long meetings in half. He simplified the organization, slicing P&G into four groups: baby, feminine and family care; beauty; health and grooming; fabric and home care.
Lafley "prefers not to engage in long meetings or emails," said Chief Technology Officer Kathy Fish. "Rather, he likes to work face to face, physically or virtually."
Lafley has reasserted control over P&G's farflung operations. Market Development Organizations, which oversee five geographical regions around the world, are now called Selling and Market Organizations.
Laser Focus
This is no simple name change. In the past, regional bosses felt they had latitude about how they executed sales. Now they must hew closely to the strategy set at Cincinnati headquarters and be laser focused on retail customers and all that involves, from distribution of products to shelving and pricing, says a manager who didn't want to be identified because he isn't authorized to speak publicly.
Lafley has made decisions that were once unthinkable. Late last year, he sold the Camay and Zest soap brands to Unilever -- the first time P&G has done a deal with its arch rival. The Duracell battery and pet-food businesses are gone. Now he's shopping multiple beauty brands. Among those likely on the block: Wella and Clairol hair products, which he previously acquired, plus Cover Girl cosmetics and fragrances.
None of this may be enough to reignite P&G's vaunted ability to spawn new product categories, as it did more than a decade ago with Swiffer. Upstarts are proliferating and winning market share without much capital or long lead times.
Dethroning Kings
"Whether they're private-label or niche products, smaller brands have a really good opportunity to dethrone the kings and queens," said Ali Dibadj, an analyst at Sanford Bernstein & Co. in New York.
Method, the cleaning products company, took only a year to redo its detergent so it could be sold in the clear plastic bottles that have become the company's hallmark. Tide Pods, by comparison, took eight years to launch. Although tiny compared with Tide, Method has shelf space in Target, Walgreens and other large retailers. It's growing at double-digit rates and is especially popular with green-conscious shoppers.
"A.G. is changing the game by deciding where to play," said John Lilly, the former CEO of Pillsbury and a P&G alumnus who worked with Lafley.
But ultimately, P&G must persuade consumers to buy its products rather than private labels, he said. The company's biggest brands -- Crest, Pampers and Bounty -- get high-quality marks from customers but P&G must keep improving products and adding new features to keep growing. The biggest challenge is the beauty business, which generated almost a quarter of sales last year, but has failed to connect with younger women.
Wooing Investors
Executing Lafley's strategy will fall to his successor, widely assumed to be P&G veteran David Taylor. The next CEO will have to woo investors as much as customers. Wall Street cheered Lafley's return, but the shares have since gained about 6 percent, compared with 27 percent for the Standard & Poor's 500 Index. Analysts surveyed by Bloomberg predict a 3 percent decline in operating profit for the current year ending in June and a 6 percent gain in the following two years.
"P&G always got off on being big," says Faith Popcorn, a trend consultant who's worked with P&G and other large consumer companies. "But now the world's going for small and intimate, individual and one-on-one."
Before it's here, it's on the Bloomberg Terminal.
LEARN MORE