Japan Estimates Potential AIIB Membership Would Cost $3 Billion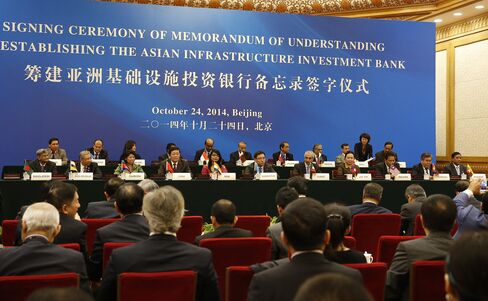 Joining the China-led Asian Infrastructure Investment Bank would cost Japan $3 billion and give it a stake about half the size of its neighbor, according to government estimates in a document obtained by Bloomberg.
Japan's initial contribution would be $1.5 billion, before doubling when the AIIB raises capital levels, according to the estimate from Tokyo, which is calculated on the size of each member's gross domestic product. It would be the second-largest stakeholder with 14.7 percent, behind China on 28.5 percent, the document shows.
Japan and the U.S. have so far declined China's invitation to become part of the AIIB, even as allies such as the U.K., Australia, South Korea, Germany and France embrace the new bank. The U.S. shaped institutions like the World Bank and International Fund, and along with Japan dominates the Asian Development Bank.
The cost estimate for Japan to join the AIIB was made on April 10, after the deadline passed for applying to become a founding member. It was presented to ruling party lawmakers for discussion about joining in the future.
Chief Cabinet Secretary Yoshihide Suga said on March 31 it was "impossible" for Japan to join unless China answered its concerns about how the bank would operate. Finance Minister Taro Aso has said China needs to set out terms for the governance of the AIIB.
Jin Liqun, the secretary general of the secretariat for establishing the bank, was willing to offer Japan the most senior deputy governor post and a seat on the AIIB board if it became a founding member, the Nikkei newspaper reported on Tuesday, without saying where it got the information.
$100 Billion
The AIIB, which will be based in Beijing, will be authorized to lend as much as $100 billion, though initially its subscribed funds, which include paid-in and callable capital, will be $50 billion.
The Manila-based Asian Development Bank, whose major shareholders are the U.S. and Japan, had $153 billion in capital as of the end of 2014.
According to the Japanese government's estimate, 75 percent of the AIIB would be owned by Asian nations, with remainder by non-Asian countries.
Some 46 countries have received approval to become prospective founding members, China's Ministry of Finance said in a statement posted on website.
The Yomiuri newspaper previously reported on Japan's potential contribution to AIIB
Before it's here, it's on the Bloomberg Terminal.
LEARN MORE