Draghi Seen Dispelling Duration Doubts About QE Program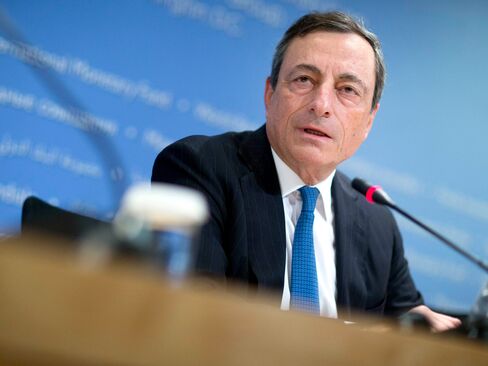 No sooner has he started than Mario Draghi is facing questions on how he plans to finish.
Six weeks into a 1.1 trillion-euro ($1.2 trillion) asset-buying plan to propel euro-area inflation out of the doldrums, the European Central Bank president is set to be asked at his regular press conference what happens if he succeeds before the provisional end-date of September 2016. His challenge is to show that policy makers are determined to cut off extraordinary support only when they're sure the economy can stand on its own.
The ECB has already claimed early victories, meeting the first 60 billion-euro monthly quota and seeing credit start to pick up after almost three years of decline. Yet investors can derail the progress if they believe stimulus will decelerate sooner than expected, meaning Draghi might need to play down the idea that the program could succumb to its own effectiveness.
"Draghi's in a situation where he has to balance the positive message from the data with keeping the expectation that they'd stop QE early contained, as it's very early," said Nick Matthews, senior European economist at Nomura International Plc in London. "He'll reinforce that it's a long road that they've only just started on, and they need to keep calm and carry on."
Improving Economy
With interest rates likely to stay on hold at record lows on Wednesday, and remain there for the foreseeable future, Draghi will be quizzed on the path of quantitative easing. The ECB will announce its rate decision at 1:45 p.m. Frankfurt time and Draghi will speak to reporters 45 minutes later.
European stocks rose and the euro fell before the announcement. The Stoxx Europe 600 Index was up 0.6 percent at 9:45 a.m., and the euro was down 0.4 percent at $1.0615.
Coincident with the start of QE, the euro area's 19-nation economy is faring less poorly than feared and the drop in consumer prices recorded since December is fading. Gauges of confidence have improved each month this year, as has Markit Economics' index of manufacturing and services activity.
The International Monetary Fund increased its economic-growth forecasts for the euro area on Tuesday, predicting an expansion of 1.5 percent in 2015 and 1.6 percent next year. In January, it projected growth of 1.2 percent this year and 1.4 percent in 2016.
Welcome though the burst of optimism is, it does cast a spotlight on the vagueness of QE. The official line is that it'll continue until September 2016 or until the ECB sees a "sustained adjustment" in the path of inflation toward its medium-term goal of just under 2 percent.
Reality Check
As Executive Board member Yves Mersch noted last week, that means it could be curtailed or extended, depending on the data.
"If we were to see that this path brings us to our goal faster, we are of course not bound by our decision in a way that we couldn't adjust it," he said. "That also holds true for the case that we don't reach our goal. In both cases, we are not reality-resistant."
Right now, the data is on the curtailing side as cheaper energy puts more cash in consumers' pockets and cut companies' costs. As inflation picks up, more hawkish Governing Council members will begin to sound in favor of ending QE early, according to Nick Kounis, head of macro research at ABN Amro Bank NV in Amsterdam.
"Draghi will fight against any suggestion that the ECB won't stay the course," he said. "This task will likely become more challenging later in the year."
Bond Complication
The ECB's own forecasts show economic growth of 1.5 percent this year, climbing to 2.1 percent in 2017, with inflation accelerating from zero to 1.8 percent over the same period. Draghi has said the outlook is contingent on the "full implementation" of the stimulus.
Full implementation might not be straightforward. The central bank's action has pushed bond yields to record lows, and below zero in some countries. Germany's 10-year yield dropped to an all-time low of 0.13 percent on Tuesday, raising the prospect that the benchmark sovereign security could soon have a negative yield.
Combined with the ECB's rule that only bonds with a yield higher than its own deposit rate, currently minus 0.2 percent, are eligible for QE, that's shrinking the universe of debt it can buy.
Agency Debt
"The ECB could find that around the turn of the year, there aren't enough of some government bonds to meet its monthly purchase target," said Marie Diron, London-based senior vice president at Moody's Investors Service. "Among the major euro-area economies and government-bond markets, only Spanish and Italian government bonds would be available until the end of the program."
Solutions that may be discussed by the Governing Council could include cutting the deposit rate to make more bonds eligible, or abandoning the negative-yield rule.
Policy makers could opt to raise the self-imposed limit on how much of each bond can be bought, and they can expand into more agency debt. The Governing Council will consider Austrian highway operator Asfinag and Italy's Cassa Depositi e Prestiti SpA for an expanded list of agencies eligible for QE, according to officials familiar with the matter.
The likely aim is to ensure the ECB can keep buying for as long as it feels necessary. Should Draghi need to justify that strategy, he could look at a jobless rate that is only slowly falling from a record high or the ECB's own internal calculations of economic slack.
Greek Risk
He can also point to potential spillover effects from Greece, where the government risks running out of cash as it negotiates the conditions for international aid payments. The Governing Council on Tuesday increased the cap on emergency cash for Greek banks by 800 million euros to 74 billion euros to counter deposit outflows spurred by concern the nation will default and exit the currency bloc.
"It is the irony of the ECB's QE that doubts and criticism are now followed by first tapering speculation only after one positive month," said Carsten Brzeski, chief economist at ING-DiBa AG in Frankfurt. "If and when the recovery really becomes sustainable in the coming months, we expect Draghi to place more emphasis on output gaps and high unemployment to justify QE to the very end."
Before it's here, it's on the Bloomberg Terminal.
LEARN MORE