CSX Leadership Shift Seen Signaled as COO Fields Analyst Queries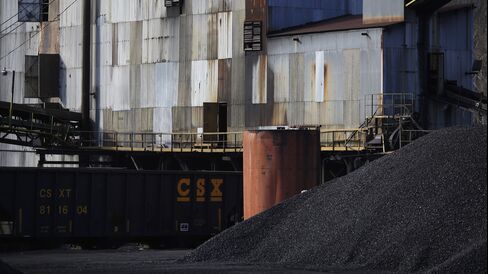 CSX Corp. Chief Executive Officer Michael Ward, the longest-serving of current North American railroad CEOs, may be getting closer to stepping aside.
Chief Operating Office Oscar Munoz jumped in to field 10 questions on the Jacksonville, Florida-based company's earnings call Wednesday, after answering only one in the past two years. Munoz was named president in February.
"This is all part of a normal transition plan," Ward, 64, said in a telephone interview. "There's been no time frame named for me leaving the company. I'm still both chairman and CEO and intend to be for some time."
The successions of railroad CEOs are often planned and projected to investors over many months and even years, reducing uncertainty over management changes. Munoz, 56, was named COO of CSX, the biggest U.S. eastern railroad, in 2012 after serving almost nine years as chief financial officer.
As CFO, Munoz regularly participated in answering questions on the quarterly calls. That dried up almost completely after he was elevated to chief of operations. On Wednesday, Munoz took over to answer the first analyst question.
"He was conspicuously active on the call," said Keith Schoonmaker, a Chicago-based analyst with Morningstar Inc., in a telephone interview. "He's the natural successor from the different roles they've given him recently."
CSX doesn't have an age requirement that would force the CEO to retire.
Even so, "They're obviously grooming Munoz to be the successor to Michael Ward when he's ready to step down," said Lee Klaskow, an analyst with Bloomberg Intelligence.
CEO Turnover
The industry is in the midst of a changing of the guard after the chief executives who led the "railroad renaissance" during the previous decade begin to step down, Schoonmaker said. Since the early 2000s, North American railroads have taken back cargo from trucks, increased prices and become much more efficient, he said.
Since 2003, an index of the four largest publicly traded U.S. railroads has jumped more than sixfold compared with a twofold increase in the Standard & Poor's 500 Index.
Norfolk Southern Corp.'s Jim Squires will take over from CEO Charles "Wick" Moorman in June and Lance Fritz, who was COO of Union Pacific Corp., was named chief executive of the U.S.'s largest railroad in February. Last year at BNSF Railway Co., which is owned by Warren Buffett's Berkshire Hathaway Inc., Matt Rose was named executive chairman and Carl Ice took his job as CEO.
Munoz, who held finance jobs with AT&T Inc. as well as being an executive at Coca-Cola Co. and PepsiCo Inc., would be the rare exception of a railroad CEO who hasn't spent decades in the industry, Schoonmaker said. Munoz was hired at CSX soon after Ward became CEO at the end of 2002.
"Importantly he's been there for the rail renaissance," Schoonmaker said. "He's been there during the time that Ward has from the helm has led CSX through this tremendous transformation."
Before it's here, it's on the Bloomberg Terminal.
LEARN MORE