Angry Birds to Fling Into Climate Change Debate on Earth Day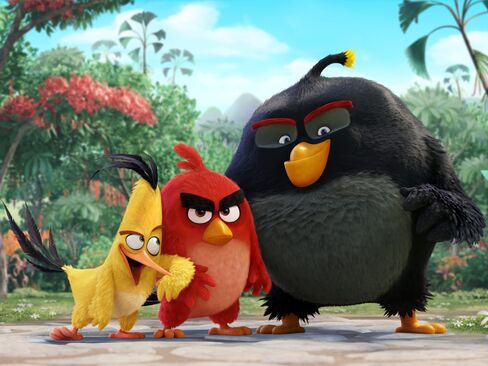 Can Angry Birds accomplish more than filling the dead minutes while you're waiting for the bus?
That's the intent of the company responsible for the popular smartphone game, which uses sly, simple physics to addictive effect. At an Earth Day celebration Saturday in Washington, the company will pledge to enlist the rotund electronic birds into a different endeavor: raising awareness about climate change.
"You can learn a lot about the world around you from gaming," said Blanca Juti, chief brand officer for Rovio Entertainment Oy. "Games talk with you, they don't talk at you."
The Finnish company is establishing a partnership with the Earth Day Network, following similar moves it made in the past. Rovio joined NASA in 2012 to promote Angry Birds Space, which offered insight into the weightlessness of space and planetary physics. It was unveiled on the International Space Station by astronaut Don Pettit, who used a stuffed version of the game's character "Red" to demonstrate the science of trajectory.
In the original Angry Birds game, users slingshot Red, Bomb, Bubbles and the rest of the birds into towers filled with egg-stealing pigs. While the game has been downloaded 2.8 billion times since 2009, Rovio has struggled to produce new brands to match Angry Birds' success. The company is banking on a a 3-D Angry Birds movie scheduled for next year to help reverse falling sales and profit at the closely held company.
Under Wraps
What the climate change twist will entail is still under wraps, and hasn't been fully developed yet, Juti said.
It will be unveiled in September, when the United Nations holds a climate week series of events. The UN is trying to build momentum for a global deal this year to cut carbon emissions.
Earth Day began 45 years ago on April 22, and is often celebrated with tree plantings, river clean-ups and concerts on a weekend closest to that date. The April 18 event, called the Global Citizen 2015 Earth Day, also includes partnerships with Caterpillar Inc., Google Inc. and Toyota Motor Corp. It will include musical performances by Usher, No Doubt, Fallout Boy and My Morning Jacket.
Before it's here, it's on the Bloomberg Terminal.
LEARN MORE