Spielberg to Direct First Disney Film With Dahl's 'The BFG'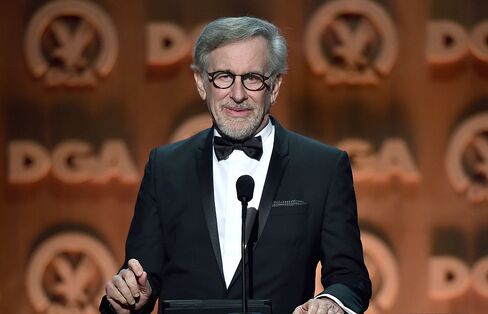 Walt Disney Co. is investing in the Steven Spielberg film "The BFG," deepening its relationship with the director of "Jaws" and "E.T." It's the first time Spielberg has directed a Disney-branded picture.
Production on the Vancouver-based project has begun, Disney said in a statement Monday. The film is based on the Roald Dahl children's book about a big friendly giant. Walden Media, Denver billionaire Phil Anschutz's production company, is also an investor in the film.
The arrangement marks a rare film co-financing by Burbank, California-based Disney. The company distributes movies produced by Spielberg's DreamWorks Studios for a fee under a seven-year deal signed in August 2009. Disney also lent $156 million to DreamWorks, with $90 million more available as of late September, according to a company filing.
"Over the years, we have enjoyed a fruitful collaboration, and we couldn't be more excited to be working with Disney in this expanded capacity on 'The BFG,'" Michael Wright, chief executive officer of DreamWorks Studios, said in the statement.
As of the end of its last fiscal year, Disney had distributed 11 films for DreamWorks Studios. That company is separate from Jeffrey Katzenberg's DreamWorks Animation SKG Inc., producer of the "Shrek" films.
"The BFG," published in 1982, tells the story of a young London girl and the mysterious giant who introduces her to the wonders and perils of giant country. The screenplay was written by Melissa Matheson, who wrote "E.T."
Indian Backing
The live-action film will be released in theaters on July 1, 2016. Dahl is the author of "Charlie and the Chocolate Factory" and "James and the Giant Peach," among other titles.
Dreamworks Studios is backed by Indian billionaire Anil Ambani's Reliance Big Entertainment. It raised $325 million in loans and a matching equity investment from Reliance in 2009 to finance movies. The funds allowed DreamWorks Studios to continue making films after breaking away from Viacom Inc.'s Paramount Pictures in 2008.
Reliance agreed to continue financing Spielberg's company in 2012, though making fewer films, the New York Times reported at the time.
In September, DreamWorks Studios hired Wright from Turner Broadcasting to replace Stacey Snider, who left for 21st Century Fox Inc.'s film unit.
Before it's here, it's on the Bloomberg Terminal.
LEARN MORE