Retailers' On-Call Shifts Denounced by N.Y. Attorney General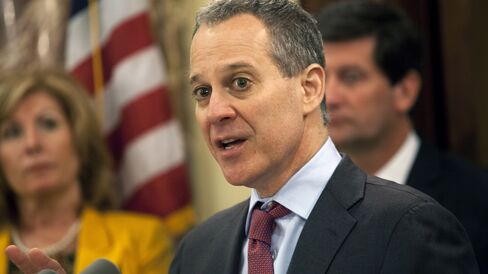 Gap Inc. and other retailers were told by New York's attorney general that using on-call shifts may be illegal, bringing fresh criticism to a practice that forces workers to make themselves available on short notice.
Attorney General Eric Schneiderman sent letters to 13 retailers on April 10 seeking information about their reliance on the staffing approach. He warned the companies that making workers stay on call may be violating state employment law.
The attorney general said he received reports that a growing number of employees are working such shifts, which require them to check in as little as a few hours in advance to see if they're needed. A range of clothing and department-store chains, including Sears Holdings Corp., Abercrombie & Fitch Co. and Target Corp., all received letters on the issue -- the latest attempt by the high-profile prosecutor to rein in what he sees as unscrupulous retail practices.
"Unpredictable work schedules take a toll on all employees, especially those in low-wage sectors," Terri Gerstein, chief of the office's labor bureau, said in the letters. Without a more definite schedule, on-call workers may struggle with childcare or elder-care arrangements, could suffer stress, and may have difficulty managing other aspects of their lives, Gerstein said.
Software Systems
Seeking to maximize efficiency, retailers have been increasingly using software to help forecast their staffing needs on a short-term basis. In its letters to the companies, Schneiderman's office questioned whether they relied on certain computerized scheduling systems. They have until May 4 to supply information on how their shifts work. The attorney general has previously pressed retailers on issues ranging from nutritional-supplement sales to the need for clearer unit-price labeling.
In its defense, the retail industry says it's difficult to schedule workers in an unpredictable business. Store managers are coping with volatile customer traffic, weather and hours dictated by malls, said Ted Potrikus, president and chief executive officer of the Retail Council of New York State.
"Retailers would love to sit here on April 13 and say, 'On April 27, the schedule is going to be X,' but it really is inherently an unpredictable business," Potrikus said. "It's a very complex issue, and it's one that can't be solved with something that says, 'You will do this.'"
New Rules
Potrikus is concerned about legislation requiring companies to give employees certain levels of notice that they'll need to work. A bill backed by Democrats in both houses of the New York legislature would stipulate that employers pay workers for a minimum of four hours if they report for work and were scheduled to work at least a four-hour shift. Employers also would have to pay for four hours of work if they require workers to call in less than 24 hours before a shift to see whether they're needed. California lawmakers are working on legislation to curb on-call shifts as well.
The state law cited by Schneiderman requires that workers who report for duty at the employer's request be paid for at least four hours, or the amount scheduled, whichever is less, at the "basic minimum hourly wage."
Scheduling practices vary by company, and it isn't clear how many companies actually rely on on-call shifts.
Target, which posts employee schedules 10 days before the start of a work week, doesn't use the on-call approach, said Evan Lapiska, a spokesman for the Minneapolis-based retailer. Target employees establish their availability and can discuss and request changes to the schedule with store managers before or after the schedule is posted, he said.
J.C. Penney Co. has a policy against on-call scheduling as well, said Daphne Avila, a spokeswoman for the Plano, Texas-based company. Representatives for Sears and Ann Inc. also said they don't use the practice.
'Sustainable Scheduling'
Some retailers are taking measures to improve their own systems. In July, Gap teamed up with the Center for WorkLife Law at the University of California's Hastings College of the Law to study scheduling and productivity. The data will be used to "create solutions that will be sustainable" and can be applied across the company's brands and store fleet, said Laura Wilkinson, a spokeswoman for San Francisco-based Gap. The first set of results are expected in the fall, she said.
"Gap Inc. is committed to establishing sustainable scheduling practices that will improve stability for our employees, while helping to effectively manage our business," Wilkinson said.
In some cases, retail employees may like the flexibility of taking on-call shifts, said Neil Trautwein, vice president for health care policy at the National Retail Federation. Meanwhile, variables such as wages and benefits further complicate staffing schedules.
In the end, scheduling is an issue best determined by individual retailers, he said.
"The political world doesn't work particularly well in striking the balance between retailer and retail employee and customer needs," Trautwein said. "The market does a better job of finding that balance and adjusting over time."
Before it's here, it's on the Bloomberg Terminal.
LEARN MORE