Palm Seen Sinking to Six-Year Low by Mistry as Output Swells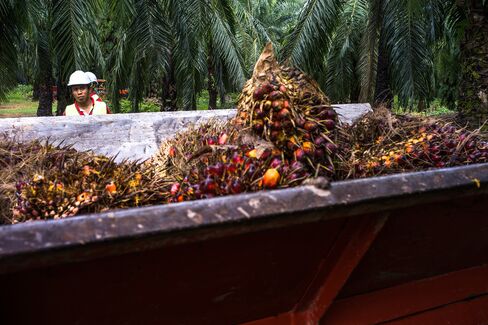 Palm oil, the world's most used cooking oil, may slump to a six-year low in the second half as supplies expand and reserves accumulate in producing countries, according to Dorab Mistry, director at Godrej International Ltd.
Futures in Kuala Lumpur may retreat to 1,900 ringgit ($512) a metric ton, a level last seen in March 2009, Mistry said in remarks prepared for a conference in Beijing. Prices will trade between 2,100 and 2,300 ringgit until May, he said, abandoning a March forecast for a rally to 2,500 ringgit.
Palm oil, used in everything from fuel to instant noodles and candy, lost 19 percent in the past year as the collapse in petroleum costs cut the appeal of cooking oils as biofuel and as global supplies of soybeans climbed to a record. While output in Malaysia, the biggest grower after Indonesia, may continue to decline until June, a recovery in the second half will boost stockpiles and pressure prices, Mistry said.
"The problem for palm oil bulls is that we are likely to see a very good recovery in production in the second half of 2015," Mistry, who has traded cooking oils for more than three decades, said in a speech prepared for delivery on Monday. "Also, the differential between prices of RBD olein and crude degummed soya oil has narrowed in favor of soya oil."
Prices fell in three of the past four years as output expanded to the highest ever in Indonesia and Malaysia, which account for 86 percent of global supplies. Futures closed at 2,131 ringgit on Monday, down 6 percent this year. Soybean oil in Chicago slumped in January to the lowest since 2008, cutting the premium to palm to almost half the average in the past five years, data compiled by Bloomberg show.
Market Share
The premium of soybean oil over refined, bleached and deodorized palm olein needs to expand to $70 a ton from about $50 now to allow palm to regain market share and keep stockpiles in producing countries at reasonable levels, Mistry said. The decline in soybean oil prices spurred buyers from India to China and Iran to shift from palm oil, he said.
Palm oil fell as Indonesia failed to implement its biodiesel program, Mistry said. Prices may rally if state-owned PT Pertamina announces a tender to buy the vegetable oil to run the biodiesel mandate, he said. The rallies will be seen by investors as opportunities to sell, he said.
Indonesia will impose export levies to fund biodiesel subsidies, replanting, research and development, with shippers paying $50 a ton for crude palm and $30 for processed products starting this month, the government said April 4. The country also raised its biodiesel mandate to a 15 percent blend in April from 10 percent, likely boosting palm demand by 2 million tons this year, the Indonesian Palm Oil Association estimates.
'Market Mood'
"The market is in no mood to take Indonesian promises at face value," Mistry said. "I would sum up the mood of the market as -- Show Me the Money."
Production in Malaysia, which lost 920,000 tons of output in the four months through February from a year earlier, will continue to decline until June due to the low biological cycle of trees and low seasonal cycle for harvest, he said. Production in Malaysia will total 19.7 million tons this year, while Indonesia's output was seen at 31.5 million tons, he said.
Output in the three months through March declined 12 percent to 3.78 million tons from a year earlier, the Malaysian Palm Oil Board said April 10. Inventories rose 7 percent to 1.87 million tons in March from February, data show.
Mistry's palm oil price forecast assumes Brent trading between $50 and $70 a barrel, a strong dollar and a normal U.S. soybean crop. Soybean prices may drop below $9 a bushel and may approach $8 if there's a big U.S. harvest, he said.
"I must warn you that farmers will resist these prices and will be very reluctant sellers," Mistry said. "So the journey downwards will be painfully slow and there will be many spot rallies."
Before it's here, it's on the Bloomberg Terminal.
LEARN MORE