Local Election Wins Open Way for Abe to Tackle Defense Laws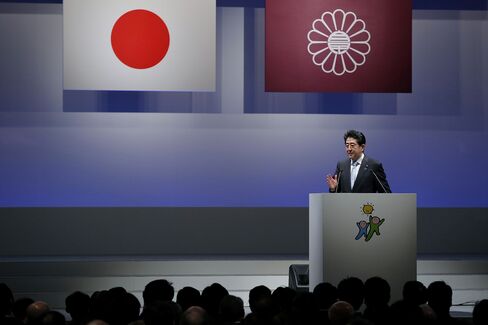 Candidates backed by Japan's ruling coalition swept prefectural elections over the weekend, easing the way for Prime Minister Shinzo Abe to press on with delicate defense and trade plans.
Candidates supported by Abe's Liberal Democratic Party and its Buddhist-backed coalition partner Komeito won all 10 elections for prefectural governors, the highest-profile positions contested in simultaneous local polls on Sunday. Many of the winning candidates were also backed by the main opposition Democratic Party of Japan.
Bills that would allow Japan's armed forces more leeway to operate overseas and to defend other countries had been on hold to avoid antagonizing Komeito's pacifist supporters ahead of the election. Efforts to reach an agreement on a regional trade deal with the U.S. before Abe's visit to Washington later this month also risked damaging support among farming communities.
"This result will make the Abe administration feel strong and act accordingly," said independent political analyst Minoru Morita. "This brings the whole country in line with the situation in the national parliament, where there is only one strong party."
The LDP is now the largest party in 40 of 41 local assemblies being contested, according to broadcaster NHK. While many voters say they are not convinced by Abe's economic or defense policies, the opposition is weak and fragmented.
Three quarters of respondents to a poll carried out by the Yomiuri newspaper April 3-5 said they were not feeling the benefit of Abe's attempts to revive the economy. Nevertheless, more than 40 percent of respondents said they supported the LDP, compared with 7 percent for the DPJ.
The two ruling parties are set to begin examining the defense legislation on Tuesday for submission to parliament in mid-May. About 43 percent of voters are in favor of the changes, while 47 percent oppose them, according to the Yomiuri poll.
U.S. officials are also in Tokyo this week for negotiations on the Trans-Pacific Partnership regional trade deal.
Before it's here, it's on the Bloomberg Terminal.
LEARN MORE