The Value of a College Degree is More Obvious Than Ever
The fastest-growing sectors of the economy are all seeking college-educated workers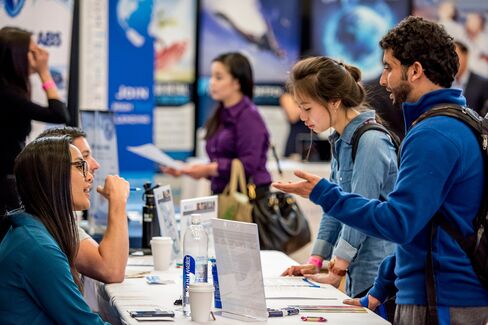 Factory jobs dwindled over the last several decades, and instead of low-skill, low wage service work filling the void left by manufacturing's decline, a new report shows that college-educated workers have taken over a much bigger share of the economy. While the makeup of the labor force has changed, the shift has not been from a manufacturing-driven economy to one underpinned by legions of people in dead-end fast-food jobs. Rather, the country's economic value is now largely propped up by college graduates.
For the report, published Monday by Georgetown University's Center on Education and the Workforce, Georgetown's Anthony Carnevale and Stephen Rose analyzed several sets of government data to show that job opportunities for college-educated workers have grown, and college graduates produce more than half of the country's economic value. From 1967 to 2007, the share of high-skill management and professional jobs rose 14 percent, and that those jobs represent 35 percent of all U.S. jobs. Over the same period, opportunities for low-skill workers declined 10 percent. These low-skill labor roles, such as fast-food server, retail worker, and dishwasher, now make up only 29 percent of jobs.
Carnevale and Rose examined data from the U.S. Census Bureau showing hourly earnings from 1973 to 2007. The numbers show that, contrary to the pessimistic views of some, college-educated workers were in significantly more demand in 2007 than they were a couple decades ago.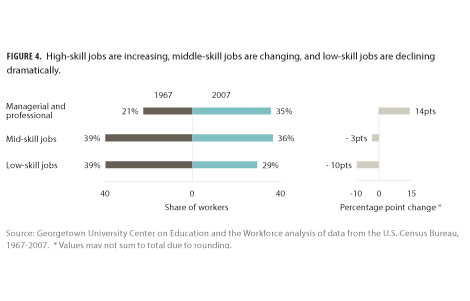 "The increasing technological sophistication of our economy has only increased the demand for educated workers who can utilize that technology," Carnevale and Rose said in the report. "As employers have bid up the price for college-educated workers, the real wages of high school-educated workers have fallen."
With more employers paying a premium for workers who've earned at least a bachelor's degree, the college-educated workers have come to pull in a growing share of dollars earned in the U.S. Although they make up only 34 percent of workers, college-educated workers earned 53 percent of wages in 2012, according to U.S. Department of Commerce data that the Georgetown researchers analyzed. That's a dramatic change from 1967, when workers who'd only finished high school (or less) made up more than 70 percent of workers and accounted for more than 60 percent of earnings.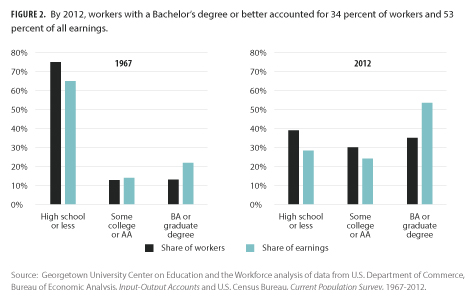 These data look at long-term trends, and don't give a full picture of what difference a deep recession and sluggish economic recovery have made to the lives and livelihoods of people emerging from college in 2015, or even in the last few years. They do, however, reveal a dramatic change in how important a college degrees has become for getting work and advancing into a higher pay grade.
"It is time to recognize that the transition from an industrial to a post-industrial economy has resulted in a shift away from an economy rooted in high school-level skills to an economy anchored in postsecondary education and training," Carnevale and Rose said.
(Corrects to state that the Georgetown data don't provide information on labor market changes in the past three years.)
Before it's here, it's on the Bloomberg Terminal.
LEARN MORE