India's Ex-Finance Minister Says Rates Should Be Lower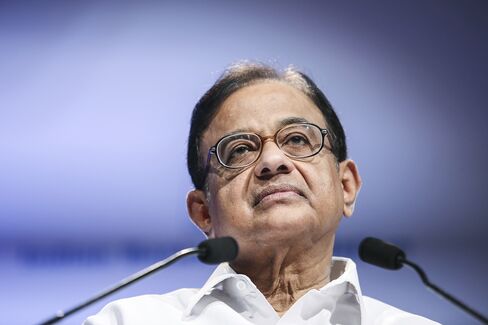 India's former Finance Minister Palaniappan Chidambaram joined his successor in advocating lower interest rates, while stopping short of endorsing the current administration's budget.
"I would like interest rates to drift down," Chidambaram, who served as India's finance minister for much of the 10 years to mid-2014, said in an interview in Singapore on Saturday. "Growth was sluggish, but it has recovered, and one must ensure that the recovery is sustained."
Finance Minister Arun Jaitley has called for lower rates even after giving the central bank a legal mandate to target inflation. He deviated from a road map to shrink India's fiscal deficit in his budget presented Feb. 28, spending more on infrastructure to spur investment and buying time for longer-term moves on taxes and subsidies.
"I think it's a workman-like budget," said Chidambaram, 69. "I did not think it is a budget that laid the foundations for triggering a period of high growth."
Central bank Governor Raghuram Rajan kept rates on hold last week as he waits for lenders to pass on unscheduled cuts in January and March to borrowers. Swap traders are betting on the 7.5 percent benchmark repurchase rate to fall another 50 basis points by the end of 2015.
"Governor Rajan has an obligation to maintain interest rates at a level where new investments will take place in order to sustain the growth over a long period of time," Chidambaram said. "This recovery will fizzle out if new investments don't take place."
Wider Deficit
Only about seven of 47 banks responded to Rajan's calls to revive lending by lowering borrowing costs and none has matched the 50 basis-point reduction in the policy rate this year. Credit growth is the slowest in more than five years.
Chidambaram criticized Jaitley's easing of the deficit target in the budget to 3.9 percent of gross domestic product, calling it "unnecessary." He said it's possible to achieve the previous commitment of 3.6 percent in the year ending March.
Key features of the budget included a corporate tax cut, more money for roads, bridges and power plants, and increased allocation for a program that guarantees rural jobs.
"From the budget papers it appears that the bulk of that money is going into what we call revenue expenditure, not capital expenditure," Chidambaram said. "That's not a very good sign."
Market Gains
Since taking office last May, Prime Minister Narendra Modi has increased foreign investment in insurance and defense, promoted local manufacturing and increased transparency in coal auctions. The moves have helped to drive gains in India's stocks and currency over the past year.
India's debt rating outlook was raised to positive from stable by Moody's Investors Service on April 9, signaling optimism that Rajan and Modi's administration will improve Asia's third-largest economy.
Even so, Modi has struggled to pass deeper reforms, including a goods and services tax, and failed to revamp subsidies in the budget for the year that started April 1.
"I don't think they've yet got a total grip over administration and how to implement their intentions and how to walk the talk," Chidambaram said.
India's bureaucrats have been ranked the worst among 12 Asian countries for almost two decades, according to a survey of about 1,200 investors across the region by Hong Kong-based Political & Economic Risk Consultancy Ltd.
Modi is also facing opposition from farmers and politicians to proposed legislation that seeks to make it easier to acquire land for industrial projects. The previous government passed a law in 2013 that empowered landowners, including largely poor farmers, while stalling investment.
"Why did you support a bill in September 2013 and why are you amending it in September 2014?" Chidambaram said of Modi's proposal. "I think the administration wants to send a signal to the big corporates that it is on their side."
Before it's here, it's on the Bloomberg Terminal.
LEARN MORE