Australia's $35-a-Ton Iron-Ore Angst Adds to RBA Easing Pressure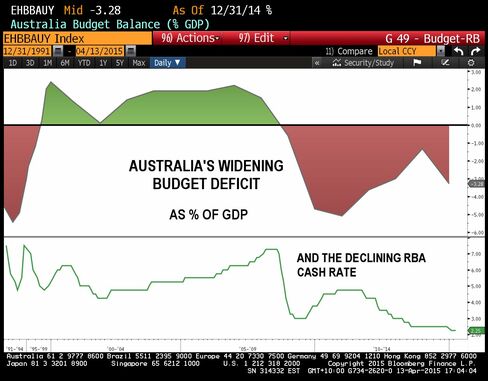 The prospect that an ever-bigger plunge in iron-ore prices will wreck Australia's budget is adding to pressure for the central bank to cut interest rates further.
The country's biggest export has plummeted 58 percent to $49 a ton over the past year, taking an ax to federal revenue. Treasurer Joe Hockey said in an interview with the Australian Financial Review that $35 is a level he's contemplating for the budget he hands down next month. Citigroup Inc. sees prices averaging in the $30s in the second half of 2015. Such levels could mean a blowout in deficits Hockey had hoped to rein in.
While the treasurer was quoted as saying he doesn't want the budget to "arm wrestle" with monetary policy, his ability to help the economy with fiscal stimulus would be curtailed. More of the heavy lifting would fall to the Reserve Bank of Australia, which has already cut its cash rate to an unprecedented 2.25 percent and said more easing may be appropriate even as house prices soar.
"The whole country seems to be suffering" as iron ore slumps, said Annette Beacher, a Singapore-based economist at TD Securities. "The closer we get to the budget and the more we realize the budget is in trouble, pricing a 1.5 percent cash rate is certainly not out of the question."
While Beacher thinks the RBA is reluctant to go below 2 percent unless all other avenues have been exhausted, the swaps market is already pricing in at least half a percentage point more in easing by October, and a 75 percent chance the reduction to 2 percent will come next month, according to data compiled by Bloomberg.
The following charts illustrate how the country's fiscal and monetary policies have historically worked in tandem, the impact of plunging iron-ore prices on national income and the fallout from a slowdown in China, the country's biggest trading partner.
CHART 1. Australia's budget deficit as a percentage of gross domestic product has tended to move in the same direction as the RBA cash target. Bigger deficits on the cards may also signal further easing from the central bank.
CHART 2. The extra iron ore Australia is now exporting to China has helped drive the decline in prices. The additional tons shipped aren't generating enough money to make up for the price reduction, and that income deterioration may worsen.
CHART 3. Chinese growth, which is forecast to slow to a year-on-year pace of 7 percent in figures due this week, is creating headwinds for commodity prices. For Australia, a depreciation of the currency might provide some relief, although the RBA has said the local dollar remains too high to help the economy.
Before it's here, it's on the Bloomberg Terminal.
LEARN MORE