Seeing Bang for Buck, Even China Fireworks Makers Now Do Finance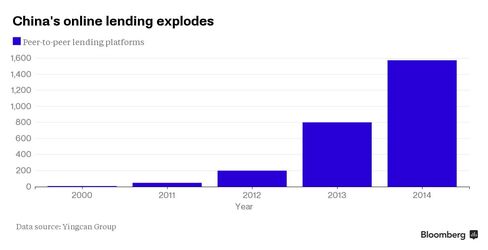 Making fireworks is turning into a dud industry in China, so the country's biggest pyrotechnics maker is changing its name from Panda Fireworks Group Co. to Panda Financial and refocusing its core business on Internet financing.
Seem strange? The 25-year-old, Hunan-based manufacturer is just jumping into the latest craze in China: finance.
Banking amateurs such as a former iron-ore importer and an ex-Microsoft Corp. engineer have been rushing to set up peer-to-peer lending sites -- some 1,700 so far. Others getting in on the action include a shoe company in Wenzhou, a copper-products maker in coastal Tianjin and a Shanghai-based airline, all of which are partners in companies granted licenses to set up China's first privately owned banks in almost two decades.
"Private lending probably looks like the greatest thing since sliced bread -- or fried rice in an Asian context -- to a lot of business people in China," said Jim Antos, a Hong Kong-based analyst at Mizuho Securities Asia Ltd.
The reasons include low barriers to entry and little regulation, plus a slowing economy which makes it harder for manufacturers to turn a profit, Antos said. Even for privately owned banks, which are regulated, costs will be lower than for traditional lenders because they probably won't be investing in branch networks. As China's leaders try to steer capital to small companies in need of funding and stimulate the economy with more credit, the resulting rush into lending may be increasing risks in the system.
Bubble Ahead?
"P2P is a bubble in the making -- there are far more platforms than what the economy needs," said Liao Qiang, a Beijing-based senior director at Standard & Poor's. "Capital is flocking into it, not because they see any growth potential, but because with such a platform you can make quick money with little input."
Panda Fireworks had a gross margin of 29 percent last year, while its one-year push into peer-to-peer lending and wealth management returned 54 percent, the company said in an April 1 filing in response to a Shanghai Stock Exchange query on its proposed change of name and core focus. Panda plans to sell its fireworks business, which is beset by shrinking demand and environmental pressures, it said in the filing. The company didn't respond to phone calls and e-mails seeking comment.
"There's no other country in the world where everyone, every company, can engage in the financial business, but in China we are granted this freedom," Zhao Weiping, owner of Panda Fireworks, said in an interview with Tencent Holdings Ltd.'s news portal qq.com in January. "There's no precondition, no entry requirement, everybody can do it. This is a once-in-a-lifetime chance, so why not? Without any hesitance, we are in."
Mobile Banking
Online peer-to-peer lending is largely unregulated. Private banks, which can collect deposits, must adhere to banking regulations. The winners of the first five licenses had to be approved by the China Banking Regulatory Commission.
With two partners per venture, including with Internet giants Alibaba Group Holding Ltd. and Tencent, the new banks will likely forgo the cost of building branches and instead concentrate on mobile devices and applications, with a focus on lending to small businesses, according to a Feb. 3 research report by Credit Suisse Group AG analyst Victor Wang. Their combined registered capital is less than that of China's smallest listed lender, Bank of Chongqing, he wrote.
Peer-to-peer lending, where members of the public lend directly to small businesses or individuals, surged almost 13-fold since 2012 to $41 billion last year as the number of platforms multiplied, according to Yingcan Group, which tracks the data. Returns averaged 15 percent in March, compared with the People's Bank of China's benchmark deposit rate of 2.5 percent, according to Yingcan.
Amateur Banker
Shao Jianhua, 38, is a typical amateur-turned-banker. After importing iron ore from India and Australia to sell to Chinese companies for five years, he made enough money to retire and closed shop in 2007. He started Xueshandai.com in 2013, betting on huge demand for loans from small enterprises. The company's transaction value exceeded 900 million yuan ($145 million) as of the end of March, a 15-fold increase from a year earlier.
"I got bored after staying home for five years," Shao said in an interview in September. "I wanted to do something meaningful but relatively easy with my life. Then I set my eyes on online banking."
Another site, Ppdai.com, claims the role of China's first and largest peer-to-peer lender. It was set up by the Microsoft engineer, Zhang Jun, and three former classmates from Shanghai Jiaotong University. With more than 6 million users and a bad-loan ratio of 1.8 percent, compared with the industry's 8 percent, it this month completed a third round of fundraising from investors including Susquehanna International Group and Sequoia Capital.
Remodeling China
Premier Li Keqiang and President Xi Jinping have been seeking to remodel China's economy, urging development of new industries such as Internet finance to make banks more competitive and market-driven. That's given rise to new opportunities for non-financial enterprises.
Other companies approved to be partners in the new private banks are auto-parts maker China Wanxiang Holding Co., airline operator JuneYao Group Co., conglomerate Fosun Group, health-care products maker Shenzhen Baiyeyuan Investment Co., chemical-material maker Huafon Group Co. and power-transmission company Zhejiang Chint Electrics Co.
On Jan. 4, Premier Li kicked off the first private bank's soft launch, pressing a button that granted a 35,000-yuan loan from WeBank, a venture between Tencent and Baiyeyuan, to a local truck driver. A second one has since begun operations, while the remaining three are due to start this year.
To some analysts, the flurry of activity has all the makings of a mania, with potentially damaging results.
Dagong Global Credit Rating Co., based in Beijing, warned last month that as many as 1,250 online lenders may go bankrupt or run into difficulty. Many platforms solicit public deposits with high interest rates and then divert the money into wealth management, real estate and risky industries discouraged by the government, it said.
"How can this not end in tears?" asked Mizuho's Antos. "This is an accident waiting to happen."
— With assistance by Jun Luo, and Sheridan Prasso
Before it's here, it's on the Bloomberg Terminal.
LEARN MORE