Pope Francis Says Armenian World War I Killing Was Genocide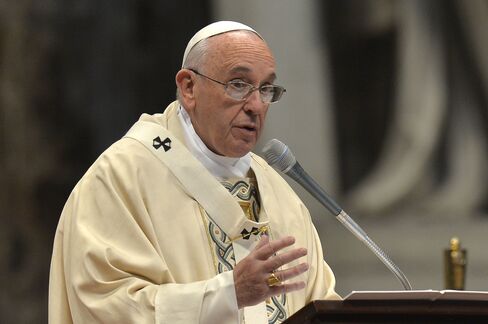 Pope Francis said the killing of Armenians under Ottoman rule during World War I was "genocide," drawing a rebuke from Turkey, which has always rejected the charge.
The massacres were "the first genocide of the 20th century," Francis said Sunday at a Mass in St. Peter's Basilica honoring the 100th anniversary of the deaths. "Concealing or denying evil is like allowing a wound to keep bleeding without bandaging it."
Turkey summoned the Vatican ambassador in Ankara over the remarks, CNNTurk reported. Vatican spokesman Father Ciro Benedettini declined to comment.
"The pope's statement, which is far from historical and legal truths, cannot be accepted," Turkish Foreign Minister Mevlut Cavusoglu said in a Twitter posting. "Religious offices are not venues for instigating hatred and revenge with baseless accusations."
Frictions between Turkey and Armenia date back to the breakup of the Ottoman empire during World War I, when the Turkish authorities' decision to expel Armenians from their homes led to mass killings. Armenia says 1.5 million died in actions that amounted to genocide. Turkey says the dead were victims of civil strife and that the numbers have been inflated.
Francis, who celebrated Mass in the Armenian Catholic rite in honor of a 10th-century Armenian mystic, said the slaughter was the first "massive" tragedy of the last century, followed by the Nazi Holocaust and Stalinism. He said it was his duty to honor the memory of the Armenians as well as the Catholic and Orthodox Syrians, Assyrians, Chaldeans and Greeks who "were murdered" by Ottoman Turks.
'Complicit Silence'
The pope recalled other mass killings including those in Cambodia, Rwanda, Burundi and Bosnia, saying humanity has "refused to learn from its mistakes." He also denounced the "complicit silence," an issue he already addressed last week when, during his Easter blessing, he asked the world not to stand by as Christians and other religious minorities are slaughtered across the globe.
This is not the first time a pope has referred to the Armenian killings as genocide. In his speech, Francis cited a 2001 declaration by John Paul II and Armenian church leader Karekin II, which used the term.
Before it's here, it's on the Bloomberg Terminal.
LEARN MORE