BHP, Rio Faulted by Barnett on Iron as Citigroup Sees $30s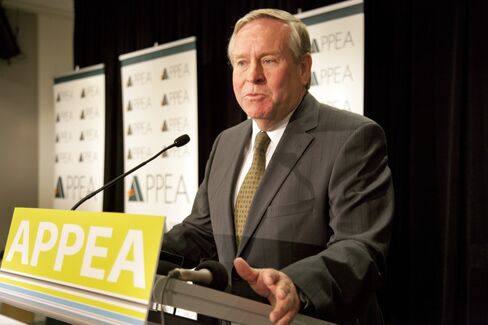 The biggest iron ore miners including BHP Billiton Ltd. and Rio Tinto Group are pursuing a flawed strategy of boosting output into an oversupplied market and they should slow growth, the premier of Western Australia said.
"The signal's going out to the market that there's going to be ever-increasing amounts of iron ore available even at lower prices," Colin Barnett said in an interview. "The market signal is wrong, and I believe the major companies have a flawed strategy. I don't think it's good business for them or their shareholders," said Barnett, whose state includes the ore-rich Pilbara, where the bulk of Australian supply is concentrated.
Iron ore sank below $50 a metric ton this month as surging low-cost supply from Rio, BHP and Brazil's Vale SA spurred a glut amid faltering Chinese demand. The federal government is contemplating a price as low as $35 in May's budget, Treasurer Joe Hockey told the Australian Financial Review, while Citigroup Inc. and UBS Group AG cut forecasts. The slump is eroding government revenues in Australia and forcing smaller miners to shut, with Atlas Iron Ltd. saying on Friday it's halting output.
"They should reschedule some of their production and give a signal to the market that, yes, we'll cater to iron ore demand and we'll cater for growth, but we're not going to flood the market," Barnett said in Singapore on Sunday. "If Rio and BHP come to me in the future, they will have to seek rights to expand their projects. I might say 'yes', I might say 'no'."
Citigroup's Outlook
Iron ore demand in China is declining while expansion plans by the biggest miners remain intact, Citigroup said in a report received on Monday that cut price forecasts into the $30s. The bank sees export supply growth of more than 110 million tons in 2015, of which 68 million will come from Rio. UBS cut annual forecasts through 2019, according to its report.
Standard & Poor's on Monday placed the credit ratings of eight iron-ore producers on "watch negative" after lowering price assumptions through to 2017. The companies include BHP, Rio, Vale, Fortescue Metals Group Ltd. and Anglo American Plc.
BHP declined to comment specifically on Barnett's remarks, while highlighting statements made by its executives. Jimmy Wilson, head of BHP's iron ore unit, said last month that increasing production while improving efficiency was aiding Australia's competitiveness. Cutting output would penalize shareholders as supply would be made up by others, Wilson said.
Shareholders' Interests
Rio flagged comments from Andrew Harding last month, when the head of iron ore said cutting supply or scaling back expansions wouldn't be in shareholders' interests. Chief Executive Officer Sam Walsh said in February if Rio reduced output, the forfeited supply would be made up by rivals.
Ore with 62 percent content at Qingdao advanced 2.7 percent to $48.82 a dry metric ton on Monday, according to Metal Bulletin Ltd. Prices declined to $47.08 on April 2, the lowest since 2005, based on daily and weekly data from Metal Bulletin and annual benchmarks for ore delivered to China compiled by Clarkson Plc. The commodity is 31 percent lower this year.
Hockey's outlook for prices as low as $35 compares with $60 in December's budget update and would mean about A$6.25 billion ($4.8 billion) less revenue a year, the report said. There seems to be no floor, the newspaper cited him as saying.
Barnett, 64, led his Liberal-National coalition to power in 2008, and his administration approved the expansion of the iron ore industry as Chinese demand spurred exports and prices. Iron ore peaked at $191.70 a ton in 2011.
Weakest Pace
Citigroup cut its price forecasts through 2020 by as much as 50 percent, according to its report. Iron ore may average $45 this year, down from a previous forecast of $58, analysts led by Ed Morse wrote. The commodity will average $36 in the third quarter and $38 in the final three months of the year. UBS cut its 2015 forecast to $50 a ton from $59, citing rising output.
Global seaborne supply will expand 8.2 percent this year, outpacing demand growth of 3.9 percent, according to Morgan Stanley. China, which buys about two-thirds of the iron ore transported by sea, saw growth last year at the weakest pace since 1990 and the economy will probably slow further in 2015.
China imported 80.5 million tons of iron ore in March, 18.5 percent more than February and 8.9 percent higher than a year earlier, according to customs data on Monday. The largest maker of steel buys from overseas to supplement local supplies.
Rio plans output of 330 million tons this year from 295 million in 2014, while BHP targets 225 million tons this fiscal year from 204 million. Vale expects to produce 340 million tons this year. Fortescue will maintain current output levels of 165 million tons, Chairman Andrew Forrest told the Financial Review.
While BHP and Rio shares fell on Monday, they've still outperformed iron ore this year. BHP lost 2.4 percent to A$29.42 by the close in Sydney, paring this year's gain to 0.2 percent. Rio dropped 2.8 percent to A$55.30, and is 4.7 percent lower in 2015. Fortescue has slumped 35 percent this year.
"I do expect BHP and Rio to expand and have expansion plans, but not bringing it on too quickly," Barnett said. "To bring on rapid expansion in a depressed market is just not good business. It's not a good outcome."
Before it's here, it's on the Bloomberg Terminal.
LEARN MORE