Bangladesh Executes Second Islamist Leader for 1970s War Crimes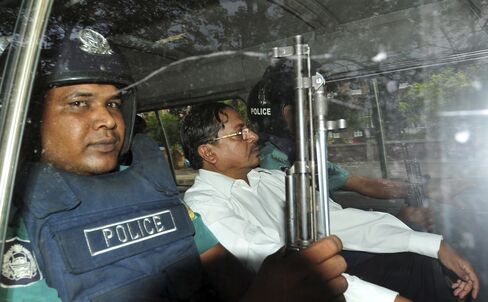 Bangladesh hanged Muhammad Kamaruzzaman, the second leader from his Islamist political party to be executed since Prime Minister Sheikh Hasina started war-crime trials in 2010.
Kamaruzzaman did not seek presidential mercy and was executed Saturday night at Dhaka Central Jail, Senior Jail Superintendent Farman Ali told reporters in the capital Dhaka. The Supreme Court on April 6 turned down a final appeal filed by the 63-year-old leader of Jamaat-e-Islami against a tribunal verdict that sentenced him to death in 2013.
Kamaruzzaman was found guilty of mass killing, abduction, torture and rape in the northern districts of Mymensingh and Sherpur during Bangladesh's struggle for freedom from Pakistan in 1971. He was buried in Sherpur, his birthplace.
The execution risks triggering further violence between supporters of Hasina and opponents aligned with Jamaat who boycotted an election last year. The power struggle, which has killed more than 100 people since January, threatens to swell the ranks of Islamic extremist groups.
Hasina's Awami League ruled Bangladesh in 2013, when a court banned Jamaat from contesting a general election. The Islamist party, compared by some to Egypt's Muslim Brotherhood, rejects democracy and Bangladeshi sovereignty, the court had ruled in response to a 2009 petition.
Fourteen people, mostly Jamaat leaders, have received the death penalty in 17 cases since 2010. Abdul Quader Mollah, Jamaat's assistant secretary-general, was hanged for war crimes in Dhaka Central Jail on Dec. 12, 2013.
Violent History
Kamaruzzaman's execution also coincides with bail granted to opposition leader and Jamaat ally Khaleda Zia. She had been confined to her office for almost three months over graft allegations.
Zia is the widow of Ziaur Rahman, who was named chief of Bangladesh's armed forces after the military in a 1975 coup assassinated Sheikh Mujibur Rahman, the nation's first prime minister and Hasina's father. Mujibur and Ziaur weren't related.
Jamaat had opposed independence for the then-East Pakistan, calling instead for an Islamic State in opposition to Mujibur, widely considered to be the ideological founder of Bangladesh. Three million people died when the Jamaat joined forces with Pakistan's military leader Yahya Khan in cracking down on an uprising for autonomy, which culminated in war when India sent in its troops.
Before it's here, it's on the Bloomberg Terminal.
LEARN MORE