Stimulus-Fed Rally Back On as Global Stocks Top $70 Trillion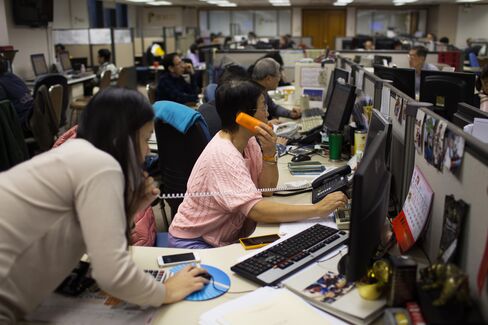 Stocks rose in the U.S. this week while they soared in Europe and Asia, eclipsing milestones from Hong Kong to Frankfurt as central bank stimulus pushed the value of global equities above $70 trillion.
With cash coursing in from mainland China, Hong Kong's Hang Seng Index rallied 7.9 percent, the most since 2011. Japan's Nikkei 225 Stock Average briefly topped 20,000 for the first time in 15 years, while the Stoxx Europe 600 Index eclipsed a record that stood since 2000. The Standard & Poor's 500 Index added 1.7 percent to pull within 1 percent of an all-time high.
One stimulus-fed rally after another is expanding equity capitalization worldwide to records after central banks in two dozen countries committed to cutting interest rates or initiating a quantitative easing program. Hong Kong's advance amounts to an extension of China's, where the Shanghai Composite Index has jumped 89 percent in 12 months.
"Equity markets across the globe have clearly been buoyed over the last few years by wave after wave of central bank balance," said Alex Neil, head of equity and derivatives trading at EFG Bank in Geneva. "Some markets have already reassured investors with strong fundamentals. But in certain areas investors are still waiting for genuine confirmation of broad-based margin and revenue growth."
In equities, Europe and Asia are picking up from the U.S., where a six-year bull market has cooled amid a 52 percent slump in oil and concern the Fed will soon raise interest rates. Stocks worldwide gained about $5 trillion in value in 2015, even as America posted some of the smallest advances among developed markets.
Equities Records
Fourteen out of 47 national equity benchmarks reached all-time highs this year. The Stoxx 600 has rallied 21 percent as the European Central Bank started buying bonds. The Shanghai Composite has jumped 25 percent on speculation the government will do more to boost growth.
Stock mania is spilling to Hong Kong after Chinese authorities last month allowed more domestic funds to access the city's shares through a cross-border link. The Hang Seng has climbed 16 percent in 2015, including 9.5 percent in April.
Japan's Topix index has rallied 13 percent this year and reached a seven-year high. While the gauge is still 45 percent below the 1989 peak, the world's biggest pension savings manager has doubled its allocation target to equities, cutting it for domestic bond investments twice since mid-2013.
"We've had huge surges in overseas markets and I think a lot of that enthusiasm, or at least a piece of that enthusiasm, has probably trickled into our markets as well," Bruce Bittles, chief investment strategist at Milwaukee-based Robert W. Baird & Co., which oversees $110 billion, said in a phone interview. "It looks more and more like the Federal Reserve Board is going to wait until at least September before they raise rates, so that's also helped the markets."
S&P 500
In the U.S., where the Fed ended its QE, the Dow Jones Industrial Average trades within 1.3 percent of a record hit in March, while the Nasdaq Composite Index is 1 percent below its dot-com-era high. The central bank signaled it won't lock itself into a timetable for tightening as economic data miss forecasts.
The S&P 500 rose 1.7 percent in the week as energy shares gained with oil and health-care companies jumped amid corporate deals. Alcoa Inc. kicked off the earnings season, reporting quarterly results that fell short of analysts' estimates. General Electric Co. surged the most in six years after announcing a major share repurchase program.
Data in Europe is topping estimates by the most in two years and the euro trades near a 12-year low. Benchmark gauges of Germany, Portugal and Denmark have all surged more than 25 percent in 2015. Even energy companies, which fell to an almost six-year low amid the slump in oil prices, have rebounded. They closed at their highest level since October after Royal Dutch Shell Plc agreed to buy BG Group Plc.
Macro Tailwinds
"In Europe, macro headwinds have become macro tailwinds for companies," said Michael Barakos, the London-based chief investment officer of European equities at JPMorgan Asset Management. His firm oversees $1.7 trillion. "The euro was a stronger currency and now it's depreciating."
Economic tides are shifting, with Europe starting a recovery, the U.S. in the middle of one, and emerging markets near the end of a cycle, indicated by the weakness in commodity prices, according to Tristan Abet, a strategist at Louis Capital Markets LP. Even in Europe, where growth is picking up, equity markets are complacent when considering the expensive valuations stocks have reached, he said.
"The equity-market cycle is maturing," Paris-based Abet said. "When you look at history, equity-market cycles tend to last between five to eight years. March 2009 was six years ago. From a pure calendar perspective, if we believe in market cycles, then we know we're closer to the end."
The MSCI World Index trades at 17.6 times the projected earnings of its companies, near the highest level since 2009, data compiled by Bloomberg show. The Stoxx 600's valuation is at a record 17.3 times.
Low Yields
Still, with bond yields in Europe, the U.S. and Japan hitting record lows, investors have shifted to stocks as a source of returns, according to Jerry Webman of OppenheimerFunds Inc.
Profits at companies in the index of global equities will increase 5.4 percent in 2015, according to analyst estimates compiled by Bloomberg. That would mark a third year of gains. At Apple Inc., the world's most valuable company, earnings will jump 34 percent, analysts estimate.
"There's been a swing that has led to more growth opportunities," said Webman, chief economist at OppenheimerFunds, which oversees $237 billion. "Post-financial crisis, companies have found good ways to make profit and conscientious investors have been able to see strong equity returns."