Michigan's Snyder Vows to Lead U.S. in Skilled-Job Training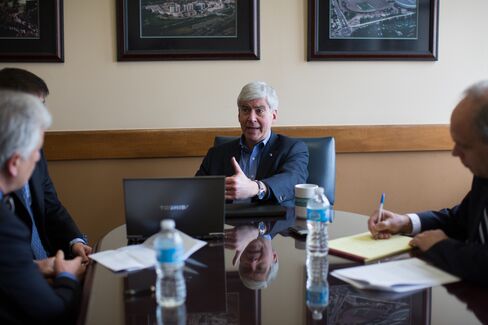 Michigan will lead the U.S. in training people for unfilled jobs in an economy that relies increasingly on skilled trades for growth, Governor Rick Snyder said.
While Michigan's economic health has improved at a faster rate than every state except North Dakota since June 2009, more jobs go begging, the second-term Republican said Friday in an interview in his Ann Arbor office, where he once worked as a venture capitalist. Training and connecting workers for those better-paying positions is a priority, he said.
"If you're in manufacturing today and you're on the production floor, in many cases you're a skilled trades person, you're running robotics equipment," Snyder said. "If you're in agriculture today and driving a tractor that drives itself with GPS, you're a skilled trades person.
''If you talk to employers today, they'll tell you they're starved for people."
Michigan has added 400,000 private-sector jobs since Snyder became governor in 2011, he said. The state's unemployment rate, at 5.9 percent in February, is falling faster than the rest of the U.S. For the first time in two decades, the rate is as low as neighboring Indiana's.
"I love that stat," Snyder said, adding that before he and lawmakers reformed Michigan's business tax and passed a right-to-work law in 2012, "we lost a lot of business to Indiana."
Emergency Manager
Snyder, 56, was re-elected in November, 16 months after the emergency manager he appointed allowed Detroit to file a record municipal bankruptcy. The city's court protection ended in December after bondholders, retirees, private foundations and state lawmakers agreed on a plan to eliminate $7 billion of debt and to spend $1.7 billion to improve the municipal government.
Snyder said he doesn't view his job as a problem-solver through a partisan lens. He's kept a lower profile than such fellow Republican governors as New Jersey's Chris Christie, John Kasich of Ohio and Wisconsin's Scott Walker -- all considered possible presidential candidates -- and deflects questions about whether he'd like to run.
Raising Taxes
Snyder is backing a ballot measure next month to raise Michigan's sales and gasoline taxes to pay for improving roads. He said absolute opposition to taxes by some in his party contributes to a broken political culture.
"The dynamic is one of fighting and blame," he said. "That's not relentless positive action. That's not effective, efficient and accountable government."
Snyder has presided over a rebound of his state's economy, led by a resurgent auto industry following the 2009 bankruptcies of General Motors Co. and Chrysler LLC. Michigan has added jobs faster than the U.S. average since August 2009.
Michigan's February unemployment rate was the lowest in 13 years, and its overall economic health improved the second-most among states since 2009 after oil-rich North Dakota, according to the Bloomberg Economic Evaluation of States. The index includes data on job growth, mortgage delinquencies, personal income, tax revenue, housing prices and stock performance.
Snyder, who also was a computer company executive before entering politics, was elected in 2010 in his first run for public office, toppling better-known candidates with a self-effacing campaign that described him as "one tough nerd." He's promoted his lack of political experience and his business savvy as virtues that would rise above partisanship to solve problems.
Cutting Taxes
Snyder cut business taxes, and imposed new income levies on retirement income, which angered seniors. He infuriated labor leaders and Democrats in 2012 by signing a so-called right-to-work law that bans mandatory union dues.
Snyder also rankled fellow Republicans when he successfully sought to expand Medicaid services, and he vetoed two bills that would ease restrictions on concealed weapons. Recently he said he would veto pending legislation to protect religious freedoms, similar to an Indiana law that ignited fierce criticism as a way to discriminate against gays and lesbians.
Before it's here, it's on the Bloomberg Terminal.
LEARN MORE