Bombardier Possible Rail Sale Seen at Up to $5.4 Billion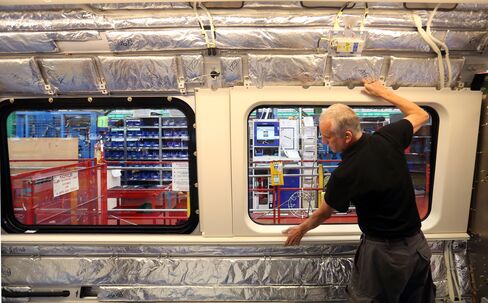 Bombardier Inc. may fetch as much as $5.4 billion if it decides to sell its rail unit, which has played a "stabilizing role" amid the struggles at the company's aerospace business, according to AltaCorp Capital.
Bombardier is discussing options with bankers about its rail business that could include a full or partial sale of the business or an initial public offering, Reuters reported, citing people familiar with the matter whom it didn't identify. The shares rose 1.5 percent to C$2.64 at the close in Toronto. They have fallen 36 percent this year.
The transportation unit, which builds locomotives, is worth as much as C$3.50 a share, giving negative value to the aerospace business, Chris Murray, an analyst at AltaCorp, said in a telephone interview.
"They are a global player in rail," he said. "It would attract a fair amount of interest."
Isabelle Rondeau, a Bombardier spokeswoman, declined to comment to Bloomberg on the report and said the company wouldn't speculate on rumors. She reiterated statements from Bombardier executives who said in February that the company would consider various options and that "everything is on the table."
'Stabilizing Role'
A breakup could be the best way for Montreal-based Bombardier to overcome the struggles facing its aerospace business, analysts and investors have said. The rail unit, which includes subway cars, signaling and control equipment, is the healthier part of the company, with 2014 earnings before interest and taxes of $429 million compared with a loss of $995 million at the aerospace unit.
"The transportation group plays a stabilizing role on the earnings profile of the company," Murray said.
Delays and cost overruns for Bombardier's new CSeries jetliner dragged the company last year to its first annual loss in almost a decade.
Alain Bellemare, who became chief executive officer in February, is shaking up Bombardier's leadership team. He announced the replacement of two senior executives Thursday just after new doubts emerged about one of the largest CSeries orders.
Repeated delays have pushed the CSeries commercial debut to 2016, after an initial target of 2013, and raised the development cost of Bombardier's largest-ever plane to $5.4 billion, at least $2 billion over budget.
Stand-Alone Questions
A sale of the rail unit would raise questions about how the aerospace business would fare on its own, Murray said. The Toronto-based analyst rates Bombardier shares outperform.
"Short term, it's maybe a great thing for investors," he said. "The issue is longer term and what that says about their intention of future project development."
Splitting off the rail unit would let management focus on the aerospace turnaround, Anthony Scilipoti, an analyst at Veritas Investment Research Corp. in Toronto, said in a telephone interview. He recommends selling Bombardier shares.
Benoit Poirier, an analyst at Desjardins Securities Inc. in Montreal, said a full or partial sale of the transportation unit would provide cash needed to complete the CSeries and the Global 7000 and 8000, the company's largest-ever business jets.
"Such an announcement would send a positive message to the Street that the new management team is not afraid of taking major strategic decisions to turn the story around and create value for shareholders," Poirier wrote in a research note. He rates the shares buy.
Debt Capacity
Others are concerned that the aerospace business is losing money and can't survive without the rail unit. Even if more of Bombardier's $8 billion debt is taken on by the rail unit, aerospace couldn't handle the load, Neal Dihora, an analyst at Morningstar Inc. in Chicago, said in a telephone interview.
"They would have a negative cash business," said Dihora, who has a hold rating on the stock. "It would be hard-pressed to put any debt on the aerospace balance sheet because they don't make any money."
A joint venture would be more likely, he said. That would let Bombardier raise cash and keep part of its best-performing business. Alstom SA, which is selling its power-generation unit to General Electric Co. and keeping its transportation business, is a likely candidate, Dihora said.
An Alstom spokeswoman couldn't immediately be reached for comment.
Before it's here, it's on the Bloomberg Terminal.
LEARN MORE