The NIH Spends More on Travel Paperwork Than on Researching Hodgkin's Disease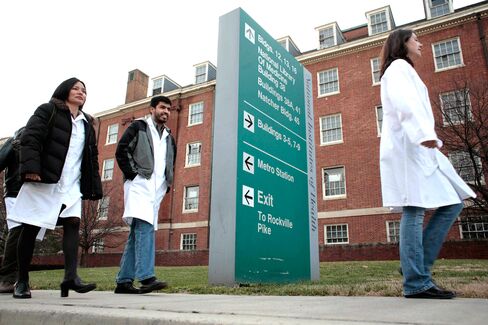 At the National Institutes of Health's wooded campus northwest of Washington, America's top medical researchers work in state-of-the-art labs to find a cure for cancer, map the brain and care for patients with Ebola.
If they want to leave, though, to meet with scientists around the world at scientific and medical conferences, they spend their time doing paperwork instead.
"I'm allowed to approve my own experiments. I'm allowed to approve my own research protocol on humans. I am not allowed to approve my travel. This is what's frustrating," said Nehal Mehta. Mehta joined the NIH in 2012 from the University of Pennsylvania, in a new position created for promising researchers in the early stage of their careers.
Mehta and other NIH researchers say they keep getting entangled in the U.S. government's travel bureaucracy. Designed to prevent waste, the rules cost millions of dollars to implement, stretch the approval process for travel to as long as half a year, and impede researchers from attending conferences that are a mainstay of scientific collaboration, the NIH says.
Strict travel rules were put in place for government workers after a scandal in which another agency, the GSA, was caught spending $823,000 on a Las Vegas conference in 2010. There were $34 breakfasts and shrimp appetizers priced at $4 a crustacean. People got fired.
"I understand why this oversight was put in place, because it's a reaction to a couple boondoggles -- which we had nothing to do with -- but of course it spills out to everybody in government," NIH Director Francis Collins said in an interview. "Science is really getting hurt."
In total, the NIH says 156 workers keep tabs on 28,000 researchers going to more than 7,000 conferences annually.
Down Syndrome
That oversight is expensive -- the NIH spent $14.6 million in 2014 to meet travel requirements and make sure employees didn't overspend. That's equal to a quarter of the agency's $56.8 million conference travel budget, and almost as much as it plans to spend this year researching Down syndrome.
The NIH says it hasn't had problems and doesn't deserve the restrictions.
"Do you think that I'm going to a scientific conference because I'm going to have a good time and spend a bunch of money?" Mehta asks.
Collaboration with the rest of the scientific world is critical, since much of the agency's $30 billion budget goes to outside researchers in the form of grants. In other cases, the NIH works directly with drug companies on new cures, like an experimental Ebola vaccine that's a partnership between the National Institute of Allergy and Infectious Diseases and drugmaker GlaxoSmithKline Plc.
Too Popular
When Mehta was invited to present research on causes of heart disease at a conference in April last year, the NIH said he couldn't go. Not because the conference wasn't important, but because it's a popular meeting and the agency limits how many people can attend so it doesn't run into trouble with the travel rules. "I lost out on connections for sure," Mehta said.
A month later, he was told the NIH didn't have slots left for another meeting to which he was invited as a keynote speaker. "I was not going to take this one sitting down." Mehta had to take his request to the top of the National Heart, Lung and Blood Institute before being approved.
"It's doing more harm than good. Scientists from the NIH don't just attend meetings, we contribute to the meetings and in turn accelerate cures," Mehta said.
Passed Over
He thinks he's been passed over as a speaker because organizers don't think he'll be able to attend. "I don't want my reputation to be preceded by that. I want people to say, 'You want Mehta, you can get Mehta.'"
Those meetings are often where breakthroughs are born. In 1987, at the American Society of Human Genetics conference, Collins and Lap-Chee Tsui, a researcher at the Hospital for Sick Children in Toronto, decided to work together. They discovered the gene that causes cystic fibrosis, a terrible disease in which mucus clogs the lungs, slowly suffocating the patient.
That discovery eventually led to Vertex Pharmaceuticals Inc.'s breakthrough treatment Kalydeco.
"I don't think that would have happened if Lap-Chee Tsui and I had not been at the same scientific meeting in 1987," Collins said. "If we had tried to do that today, maybe my travel would have been disapproved."
Stopping Waste
Supporters of the rules say they keep wasteful spending in check. "Administration efforts to reduce wasteful spending related to travel and conference activities have saved taxpayers nearly $3 billion over the last few years," said Jamal Brown, a spokesman for the White House Office of Management and Budget.
In January, the White House sought to ease the rules slightly, letting agencies make their own decisions instead of requiring the Department of Health and Human Services' sign-off.
Getting approved can be a six-month process. Each of the 27 institutes or centers under NIH has to send up lists of attendees and give management months of notice of travel details. Information goes back and forth between a travel office, an ethics office, administrative offices and the conference sponsor. On top of that, Collins or his deputy review and approve the most expensive meetings.
Since the biggest, most important studies are often presented as "late breakers," approved and announced at the last minute, top researchers may miss out on major advances.
The NIH wants to decentralize approvals further, cutting down on paperwork spent aggregating conference attendance across institutes in order to decide who at the top of the agency might need to sign off.
"This is an enormous burden, trying to collect all of this information months ahead," Collins told the Senate in a March hearing. The current process "has relatively little, if any, added value."
Before it's here, it's on the Bloomberg Terminal.
LEARN MORE