No Closure for Korea as Ferry Disaster Haunts President Park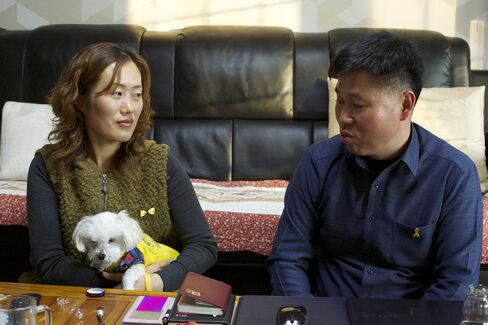 In the days when South Korean President Park Geun Hye was still talking to the families of those killed in the Sewol ferry sinking, she pledged to end the "malpractices" that left the country's rapid economic rise marred by public safety calamities.
"I should have made more effort to eradicate those evils," Park said two weeks after the April 16 disaster, which left more than 300 people dead. "I will make sure to fix the problems and create a country where people can trust and live a safe life."
One year later, Park's words feel like an empty promise to Moon Jong Taek, whose daughter, Ji Sung, was one of 250 high school students who died on the ferry. After Park's ruling party held its ground in June local elections, the president ceased most contact with the parents.
She passed by crowds of shouting families of victims when she went to the National Assembly in October to give a speech -- where she made no mention of the sinking or search for those still missing. She drew a protest for it from the main opposition, New Politics Alliance for Democracy.
"She's not my president," said Moon, who confronted Park on live television during her visit to check on rescue operations after the sinking. Park later called Moon personally to give him an update.
Soul-Searching
Just as Park went back to business as usual, so did South Korea. Though the nation's biggest maritime disaster in more than four decades prompted enough soul-searching to create a funk in the economy, the self-reflection also proved temporary.
Ship inspections and crew safety training are still neglected, South Korea's audit agency says. And the government has done little to alter the perception that the rush for economic development, sometimes referred to in Korean as pali pali, or quick-quick, justifies placing business interests over public safety.
The issue has been highlighted many times, including under previous administrations: in 1995 after a shopping mall in Seoul collapsed, killing more than 500; when a bridge collapse a year earlier left 32 people dead; and after a gymnasium roof caved in weeks before the Sewol sank, killing 10 and injuring more than 100 at a party for college students. The final ferry death toll of 304 includes nine still officially classified as missing.
Trade-Off
Such incidents often spark criticism in the media that the government is allowing companies to turn a blind eye to safety in the name of economic development.
"People wanted cheaper products and services that excluded the cost of safety," the Dong-a newspaper said in an editorial in May last year. "Through the Sewol accident, it's become clear that we have to pay the price for everything at once -- all the risks we've been taking and putting aside."
Park's approval rating, which had hovered above 50 percent prior to the sinking, fell steadily afterward to a record low 29 percent in early February, Gallup Korea said. The polling company cited her "lack of communications" with the public and disputes over personnel and tax reforms. Her rating has since rebounded to 39 percent.
Government steps to prevent collusion between the government and companies include limiting the number of public officials taking jobs in the private sector and an anti-bribery law, presidential spokeswoman Chun Hye Ran said in an e-mail.
"We will continue to make efforts until people's participation in safety issues becomes regular and the culture of safety becomes part of our lives," she said.
Response Measures
Parliament passed legislation in November responding to the sinking. One bill authorized an official Sewol investigation -- seven months after the tragedy. Others established a new safety ministry and broadened anti-bribery regulations. The government also plans to spend 30 trillion won ($27 billion) through 2019 to improve operations at the coast guard and the emergency management agency.
Charles Armstrong, a professor of Korean studies at Columbia University, characterized the problem as deeply rooted.
"Risking safety to make a quick profit seems endemic to Korea Inc., as we've seen in the Sewol disaster," he said by e-mail. "Interestingly, it is often the government, and especially the president, who is blamed more than the companies involved."
That may be due in part to the role played by family-run conglomerates, or chaebol, in pulling the country out of poverty since the Korean War. It was an era known as the Miracle on the Han River, begun under Park's father, in which an economy that once lagged even North Korea's grew into Asia's fourth-biggest. It spawned some of the world's biggest brands, including Samsung Electronics Co. and Hyundai Motor Co.
Pali Pali
Pali pali was at the center of this period of rapid industrialization under the rule of Park's father, former President Park Chung Hee.
"Collusion between private companies and government bureaucrats is still a structural problem in South Korea that contributed to the Sewol sinking," said Kim Cheol, a researcher at the Public Policy Institute for People in Seoul.
There are many ways in which the Sewol fits a narrative many thought had been consigned to the past.
Prosecutors found the ferry had been dangerously redesigned, though the overhaul was approved by four different government and mandated non-government agencies, and was overloaded on its journey from Incheon to the resort island of Jeju. An inexperienced crew member was at the wheel in notoriously difficult waters when the boat began to list, with the captain absent in his cabin.
'Oversight'
Lee Su Ha, whose 17-year-old son, Jun Woo, died on the ferry, says families of the victims are angry because the government has ignored broader issues raised by the sinking in favor of narrowly focusing on those immediately involved.
"While there may have been overloading, sharp veering or an inexperienced steersman, there's also supposed to be government oversight of these things," he said. "There are many more who can be held responsible. That's what the families are talking about."
Ferry inspections are still conducted poorly while crew safety training is neglected, the audit agency said in its report. Officials still approve illegal modifications of ships, while crew members lie to authorities about the amount of time they spend at sea to boost their credentials, the agency found.
Jail Sentence
The chief of operator Chonghaejin Marine Co. was sentenced to 10 years in jail for violating maritime safety regulations in November. The ruling came five months after police found the decomposed body of Yoo Byung Eun, the tycoon whom officials identified as the operator's de facto owner. Police haven't given a cause of death for Yoo, who was the subject of a massive police manhunt at the time.
Opponents have also pounced on legislation seen as actually weakening public security. Of 852 regulations identified for repeal during Park's term in office, 119 are related to safety standards, according to a study by the Public Policy Institute for People.
Criticism of the Park administration's failure to enact meaningful marine rules is unfair, said Hong Sung Gul, a professor of policy studies at Seoul's Kookmin University, pointing to the political fighting over the conditions of the Sewol investigation. Park's ruling party argued that giving powers of special prosecution to the committee would give Park's opponents too much leeway to press charges against officials and even the president herself.
Sending Message
"Park's critics turn a blind eye to the real reasons the ship sank," Hong said. "Society has gone mad with legally unreasonable demands, while rampant rumors cloud rational discussion. Anything she does with an earnest intention is greeted with excessive criticism."
For parent Moon, picketing against the government near a memorial for the students in Ansan, the south of Seoul, the message he wants to deliver to the president is clear.
"She should stake her power on finding out what went wrong and how we can avoid disasters like this from repeating, while listening to the victims, if she's really the president who wants a safer country," he said.
Before it's here, it's on the Bloomberg Terminal.
LEARN MORE