NHTSA to Consider Reopening Investigation of Jeep Fuel Tanks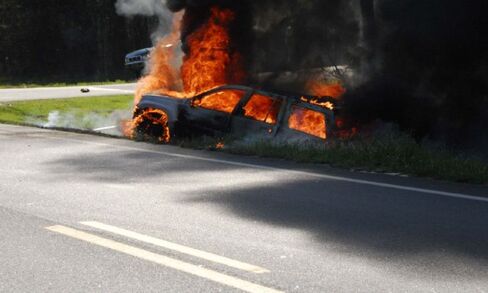 U.S. auto-safety regulators may consider reopening an investigation into fuel-tank ruptures in some of Fiat Chrysler Automobiles NV's older Jeep models.
Repairs on fuel tanks from a 2013 recall of 1.56 million Jeep vehicles "should be done faster, and we want to see that 100 percent," Mark Rosekind, chief of the National Highway Traffic Safety Administration, told reporters Thursday at a briefing at the New York International Auto Show. "Everything is on the table for us to look at."
If NHTSA determines that the automaker isn't moving quickly enough, based on first-quarter data on the repairs, the agency will use that as an entry point to act, he said.
Fiat Chrysler this month was ordered to pay $150 million to the family of 4-year-old Remington Walden, who burned to death in a crash, after a jury found the carmaker was reckless in its design of the gas tank for the 1999 Jeep Grand Cherokee. That model was included in an earlier investigation of Jeep gas-tank fires, and NHTSA determined on June 2013 that it was safe. The 2002-2007 Jeep Liberty and the 1993-1998 Grand Cherokee were recalled to add towing hitches for extra protection in crashes.
Consumer advocates are using the April 2 verdict as a wedge to ask NHTSA to step in again and push for a wider recall.
Company Response
Eric Mayne, a Fiat Chrysler spokesman, said that on the pace of repairs, the company has sought out the affected customers on 5.4 million occasions through mail, e-mail and phone calls. Almost 388,000 vehicles have been processed, he said.
On the 1999 Grand Cherokee, Mayne said NHTSA's investigation found that the model didn't "pose an unreasonable risk to safety" and that nothing that has happened since "should affect this conclusion."
James Butler, the lawyer for Walden's family, said in an e-mailed statement that the trailer-hitch fix for the Jeeps fails to protect people from fires caused by rear impacts. He said that he and his clients hope that NHTSA will do the "right thing" and that Thursday is Walden's birthday.
Rosekind said NHTSA will use the first-quarter numbers as a jumping-off point to identify how the agency will approach the goals to complete recalls.
When there's a "known issue, it's been acknowledged, and people actually are trying to go after it, it's not happening fast enough for us," he said. "We're going to look at those numbers, and I think that will be our leverage point to actually come out and figure out what else we can be doing."
Record Recalls
NHTSA has increased pressure on automakers to more quickly disclose defects and finish recalls. The companies recalled an all-time high of about 64 million vehicles in the U.S. last year, including for fatal defects in ignition switches in General Motors Co. cars and air bags made by Tataka Corp.
Delays in initiating recalls led to congressional hearings calling for better policing of the industry. NHTSA has said it plans to speed up defect investigations after a probe into brake-line issues on GM trucks took four years. The agency on Thursday said it closed that case without ordering a recall.
NHTSA is understaffed because of the jump in automotive recalls, which has spurred President Barack Obama to direct more funds to the agency in his next budget. Rosekind said earlier this year that there may be even more cars recalled in 2015 as public awareness of vehicle defects increases.
At the end of March, Transportation Secretary Anthony Foxx submitted to Congress legislation that would expand NHTSA's authority over the auto industry, allowing the agency to issue orders to carmakers to take immediate action on defects. The bill also highlights improving efforts to inform the public on recalls at dealerships.
The measure includes spending $478 billion on infrastructure projects such as fixing highways and bridges and expanding public transit.
Before it's here, it's on the Bloomberg Terminal.
LEARN MORE