Bank of Korea Holds Benchmark Rate Amid Weak Inflation, Growth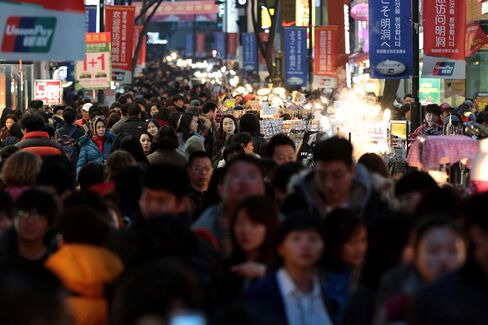 South Korea's central bank held its key interest rate at an all-time low to monitor the impact of three cuts since August as inflation slowed and exports fell.
The Bank of Korea kept the seven-day repurchase rate unchanged at 1.75 percent, as forecast by all 16 economists surveyed by Bloomberg. The BOK is expected to keep it at that level until at least the end of March 2016, according to a separate survey.
Governor Lee Ju Yeol may cut the bank's forecasts for prices and growth later Thursday, after signaling they were too high last month. As price gains eased to the slowest pace in almost 16 years, the BOK cut the benchmark rate in March, joining about 30 central banks in a global wave of easing this year.
"There is a possibility of a future rate cut, although the hurdle is high due to issues including household debt," Shin Hong Sup, a Seoul-based fixed-income analyst at Samsung Securities Co., said before the decision. "The economy isn't in a situation where we need two consecutive cuts."
The won appreciated 1.3 percent against the dollar this month to 1,095.20 as of 10:03 a.m. in Seoul, according to data compiled by Bloomberg. The currency strengthened 1.5 percent against the Japanese yen during the same period. The yield on three-year government debt increased two basis points this month to 1.75 percent, Korea Exchange prices show.
The economy has shown little signs of improvement since the central bank began lowering rates last year. Consumer prices rose 0.4 percent in March from a year earlier, the least since July 1999. Exports fell in every month this year, and the economy expanded at the slowest pace since 2009 in the last quarter of last year.
Growth Outlook
The BOK will probably lower its 2015 growth outlook to near 3 percent from January's 3.4 percent and cut the inflation projections to 0.9 percent from 1.9 percent, according to Samsung Securities' Shin.
The central bank will put priority on macroeconomic factors such as growth and inflation for future monetary policies, while considering financial stability, Lee told reporters on March 30.
Lending to households by Korean banks rose to a record 526.9 trillion won in March, the central bank said in a statement on Wednesday.
Eight out of 26 analysts surveyed by Bloomberg last month forecast South Korea's benchmark rate to be lowered to 1.5 percent this year. Two see an increase to 2 percent, while the rest expect no change.
Before it's here, it's on the Bloomberg Terminal.
LEARN MORE