Why It's Good Business for Vietnam to Mend Ties With China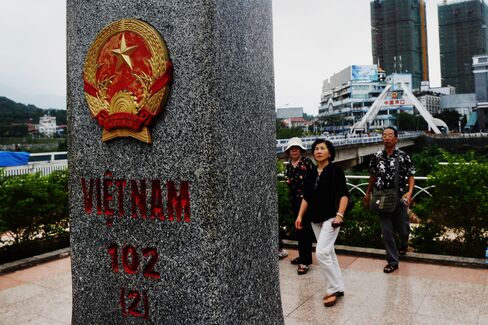 Vietnam sent an array of Communist Party leaders and cabinet ministers to China for a four-day trip aimed at mending fences with its biggest trading partner.
Communist Party General Secretary Nguyen Phu Trong leads the group that includes Vietnam's ministers of foreign affairs, defense and public security on the visit through April 10.
Relations frayed after China placed an oil rig in waters claimed by Vietnam near the disputed Paracel Islands in the South China Sea last May. That triggered anti-China riots that closed down foreign-owned factories and prompted Chinese workers to flee. China withdrew the rig in July. The Philippines, Taiwan, Malaysia and Brunei also have competing claims in the South China Sea.
Tourism Takes a Hit
The dispute took its toll on Chinese tourism to Vietnam, which dropped 40 percent in the first quarter of this year from 2014, compared with 49 percent growth in the same period a year earlier, data compiled by Bloomberg show. That's an economic blow because visitors from China, the largest market, were more than the combined total from South Korea and Japan since 2011.
Some Chinese tour operators have told counterparts at Vietravel that the Chinese government ordered them last year to stop promoting tours to Vietnam, said Tran Thi Viet Huong, acting marketing and communication manager at Vietravel, one of the country's largest tour operators. The number of Chinese tourists dropped 30 percent in the first quarter at the company, compared to last year, she said.
"The political upheaval between Vietnam and China over the South China Sea last May has severely impacted our revenue from Chinese tourists since then," Huong said by e-mail.
Unbalanced Trade Partnership
China has been Vietnam's largest trade partner since 2007, when it overtook both the U.S. and Japan, according to International Monetary Fund figures. The balance has long been in China's favor, with Vietnam's deficit in 2013 at $20.1 billion, about offsetting a $20.7 billion surplus with the U.S. Trade figures compiled by Bloomberg from China's Customs General Administration, which uses different data, put the 2013 deficit at $31.7 billion and for 2014 at $43.7 billion.
Purchasing Power
China surpassed Vietnam in average income in 1987, based on purchasing power parity. It's been no contest since, with China's per-capita of $11,907 in 2013 more than double Vietnam's $5,294. Although China has grown at twice the pace, Vietnam has narrowed the gap with the Philippines, the nearest Southeast Asian nation in terms of population.
— With assistance by Nick Wadhams
Before it's here, it's on the Bloomberg Terminal.
LEARN MORE