Kuroda Sees Less Risk to Economy as BOJ Keeps Record Stimulus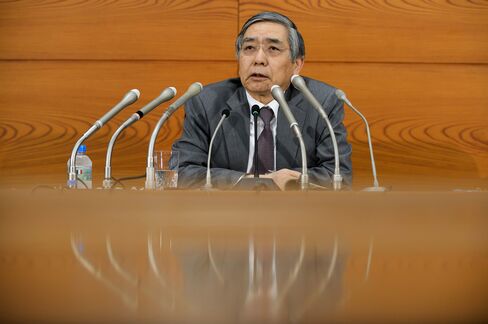 The Bank of Japan kept policy unchanged on Wednesday, with Governor Haruhiko Kuroda saying the economy faces less risk now than it did last year when the central bank boosted monetary stimulus to an unprecedented level.
The BOJ vowed to continue expanding the monetary base at an annual pace of 80 trillion yen ($666 billion), as forecast by all 34 economists surveyed by Bloomberg. The board voted 8 to 1 against a proposal by Takahide Kiuchi, a consistent opponent of Kuroda's easing, to reduce the target by almost half.
The governor's bid to spur 2 percent inflation is facing a test, with the BOJ's main gauge of price gains sinking to zero because of cheaper oil and weakness in Japan's recovery from recession. While a majority of economists see the BOJ adding to easing by October, Kuroda said price gains should pick up on faster growth in wages, supply constraints and signs that consumers and companies are starting to believe inflation is taking root.
"The BOJ appears to be confident about the outlook for the economy," said Junko Nishioka, an economist at Sumitomo Mitsui Banking Corp. "It's unlikely the BOJ will move later this month, even if they have to cut their inflation forecast because of oil."
Central banks in India and Australia kept monetary policy unchanged after meetings that ended Tuesday, and the Bank of Korea is forecast to leave its benchmark interest rate on hold when board members meet on Thursday.
Market Impact
The yen, which has dropped about 9 percent since Kuroda added to monetary easing in October, strengthened 0.2 percent to 119.99 per dollar at 5:29 p.m. in Tokyo. The Topix index of shares advanced 0.6 percent.
Kuroda, in the narrowest vote the BOJ had seen since 2008, last October pushed through a decision to increase the pace of asset purchases to snuff out a "deflationary mindset." That stimulus boost is having an effect on wages and prices, Kuroda said at a press briefing in Tokyo on Wednesday.
"At that time consumption was really weak, with prolonged effects of the sales-tax hike, and bad weather in summer. Added to that, from summer oil prices started falling, and so every month the CPI rate of increase slowed," Kuroda said. "The risks we faced at the end of last October have cleared so far."
The central bank will continue to watch price trends and will adjust its policy if it sees difficulty in achieving its target, he said.
Dissenting Voice
The only dissenter to the BOJ's 8-1 vote to keep policy unchanged Wednesday was Kiuchi, who has opposed Kuroda since May 2013. He proposed to reduce the monetary base expansion target to about 45 trillion yen per year.
Twenty-two of 34 economists forecast the BOJ will expand stimulus by the end of October, according to a Bloomberg survey conducted from March 31 to April 3. Three of those see action on April 30: Credit Suisse Group AG, Mitsubishi UFJ Morgan Stanley Securities Co. and Mitsubishi UFJ Research and Consulting Co.
Kuroda has warned that consumer prices may decline as the effects of the 50 percent tumble in oil prices wash through the economy. Any temporary drop will give way to a "considerable" pick up inflation in the second half of the fiscal year that runs through March 2016, he said last month.
The BOJ is leading the charge on reflationary policies of Prime Minister Shinzo Abe, who took power in December 2012 with a pledge to end two decades of economic stagnation. Kuroda, who originally sought to achieve the 2 percent inflation target in about two years when he began record easing in April 2013, now says the goal will be reached sometime around the year through March 2016, depending on oil prices.
Before it's here, it's on the Bloomberg Terminal.
LEARN MORE