China's Deflation Threat: What to Watch Beyond the Headlines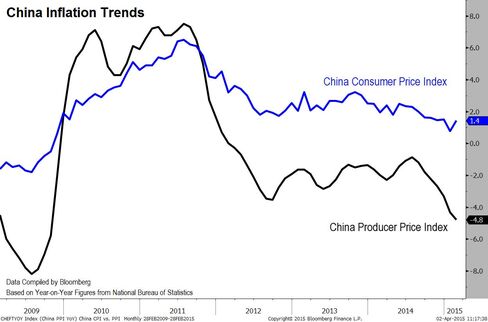 Deflation has been the buzzword since China's central bank Governor Zhou Xiaochuan told the Boao Forum for Asia last month that the economy and prices were not expanding fast enough.
Zhou's comments came after the benchmark industrial-price gauge fell in February by the most since 2009 as growth in the world's second-biggest economy decelerated with commodities such as copper, iron ore and oil continuing their plunge.
* Producer-Price Deflation vs. Consumer-Price Inflation
The price spiral is being driven by commodities and industry, with the producer price index plunging 4.8 percent in February from a year earlier, the biggest drop since the global recession of 2009. The consumer price index's 1.4 percent rise in February compares with the government's full-year target of 3 percent.
March data is scheduled for release Friday, with economists surveyed by Bloomberg expecting the CPI to increase 1.3 percent and the PPI to match the 4.8 percent fall in February.
The fall in the PPI is due to a combination of commodities oversupply, "which is mostly good for China because they can get things cheaper, and too many steel mills and cement kilns, which isn't good," said Tom Orlik, chief Asia economist for Bloomberg. "On CPI, low food prices are an indication that labor costs are low, and low labor costs are a sign that there is labor slack."
* Factory Deflation in China is a Global Issue
Falling prices at the factory gate are allowing China's exporters to cut asking prices, feeding global deflation pressures. An export price index from China's customs office dropped 3.7 points in February from the prior month, the most since January 2012.
* China Inflation Rate Surprises Economists
Price levels have caught analysts off guard, with the Citi Inflation Surprise Index for China becoming more negative since October 2013, meaning analyst forecasts have been getting progressively more wrong.
The combination of volatile global and domestic factors have made it more difficult for economists to accurately project price changes, said Chen Xingdong, chief China economist at BNP Paribas SA in Beijing.
* Price Trends Vary by Region
Inflation isn't equal in all parts of mainland China, which has 32 provinces, municipalities and autonomous zones. Consumer prices rose least in 2014 in Inner Mongolia, Zhejiang and Beijing, with the CPI growing less than 0.8 percent.
Prices increased most in Qinghai province, 3.5 percent, and
2.6 percent in Shanghai, Tibet and Guizhou, based on December-to-December comparisons.
"Expensive banquets in Beijing may have decreased sharply as a result of the government's anti-craft campaign, and this may result in lower inflation there, while in Shanghai, the impact may not as obvious as in Beijing," BNP's Chen said.
A price index of core online shopping goods and services increased 0.04 percent in March from a year earlier after a stretch of 38-straight monthly declines, according to a report from the research arm of Alibaba Group Holding Ltd.
Alibaba's core Internet shopping price index uses a basket of ten major categories spanning 500 kinds of goods and services totaling 100,000 items on the e-commerce giant's retail platforms to monitor price trends. The rise was mainly attributed to a 4.8 percent increase in tobacco and alcohol prices and a 3.69 percent increase in collectible items and investment products. Food prices dropped 0.75 percent.
— With assistance by Xin Zhou
Before it's here, it's on the Bloomberg Terminal.
LEARN MORE