Chile Fights Off Creeping Crisis as Graft Accusations Escalate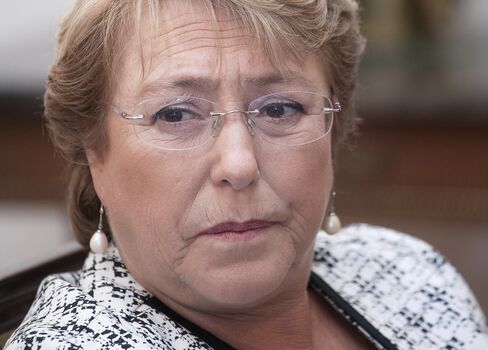 Chile, Latin America's wealthiest nation, lauded for its probity and economic management, is confronting corruption scandals snaring businessmen and politicians from both sides of the political divide.
The scandals have dominated the national press and caused some to contend that the country is going through one of its most significant crises since the return to democracy in 1990. On Wednesday, the Brazilian bank BTG Pactual said in a report that, due to the misconduct, the Chilean government's political agenda was "fractured beyond repair."
"Chile is at a crossroads," said Andres Santa Cruz, who was head of the Confederation of Production and Commerce until March 25. "We need the commitment of everyone to face this situation."
While markets have remained largely unperturbed and the graft in Chile does not compare with that of neighbors such as Brazil, President Michelle Bachelet's approval has hit a record low as the crisis extends to her family. In a meeting with foreign journalists on Wednesday, she squashed rumors that she considered resigning.
Two billionaires, owners of Grupo Penta, are in prison awaiting trial. Other companies, including Sociedad Quimica & Minera de Chile SA, or SQM, are under investigation for evading taxes and using fake receipts to finance political campaigns. State prosecutors are investigating whether Bachelet's son used his influence to help his wife obtain a $10 million loan.
Ernesto Silva, president of the opposition Union of Democratic Independents, has resigned, as has Bachelet's son, Sebastian Davalos, as director of social and cultural affairs at the presidency, although he has not been charged with a crime and says he is innocent.
Record Low
Bachelet, elected 15 months ago, denied that her agenda had been affected. She said she was pushing ahead with bills to open new state universities and guarantee free higher education while working to improve regulation of party financing, giving "claws" to the electoral board, Servel. She has also expanded the number of public workers who must provide a list of their assets.
She called the crisis a "tremendous opportunity" to strengthen institutions and fill legal loopholes. "The government is not making any attempt to cover up anything," Bachelet said. "The institutions are doing what they have to do."
The concerns have produced dips in investor and consumer confidence, also a result of slowing growth. Business confidence fell to 40.2 in December from 51.9 in March, according to the Chilean Institute of Quality Business Management. It recovered to 48.6 last month.
Consumer Confidence
Consumer confidence dropped to a five-year low of 41.1 in November from 55.9 the year earlier, according to surveys by Santiago-based Adimark. It rebounded to 44.7 in February.
The jailed Grupo Penta owners, Carlos Alberto Delano and Carlos Eugenio Lavin, are awaiting trial, accused of expensing fake receipts issued by family, friends and political candidates. The payments were used to fund the campaigns of politicians belonging to the Union of Democratic Independents party, which was set up by civilian members of Augusto Pinochet's military regime.
Julian Lopez, a lawyer for Lavin and Delano, said in by e-mail of his two clients that while they recognize the existence of "irregularities and bad practices" in their conglomerate, their "tax infractions do not constitute crimes."
Santiago-based Penta is a holding company for a bank and insurers.
Indirect Payments
The investigation has now expanded to include SQM, a major potash producer, which is suspected by state prosecutors of making indirect payments to as many as 50 lawmakers to avoid contribution limits not only in the right-wing opposition but in the ruling leftist coalition as well. Shares in SQM have tumbled 18 percent since March 18.
Silva, who is Delano's nephew, has declined to comment on the investigation while saying his resignation was aimed at reuniting the party.
Pablo Collada Chavez, who runs Intelligent Citizen Foundation, an electoral financing reform group, said he had long been concerned with a lack of transparency in political campaigns but "didn't imagine that a network of such depth and complexity existed. It has been shocking to find out about all these cases."
Other accusations of illegal practices in the past year have also involved Chile's largest brokerage, LarrainVial SA, and board members at the insurance group Consorcio Financiero SA.
Record Fines
The securities regulator handed down record fines of $164 million last year, including $70 million for Julio Ponce, who controls SQM, in a separate case. Ponce hasn't commented publicly about the allegations against him, while the company has set up a committee to investigate the claims against it and has fired its CEO. It also said it had provided the tax authorities with all the information requested of it.
Some of those caught up in the corruption scandals made their fortune when they bought the state-owned companies they were administering under the former dictator, Augusto Pinochet. The privatization was led by economists trained in the U.S. and their policies are widely credited with leading to three decades of prosperity and growth exceeding five percent. But they may have opened the door to unscrupulous practices.
Many argue that the crisis has been exaggerated. Matias Zegers, director of the Center for Corporate Governance at the Catholic University in Santiago, said the cases that have come to light show that Chile is clamping down on corruption.
Alarms Go Off
"Chile is not a corrupt country," Zegers said. "The institutions work and when there is corruption the alarms go off and people are shocked and angered."
A comparison with its neighbors suggests a contrast. Brazil's state-owned energy company Petrobras helped channel as much as $200 million to politicians in a kick-back system over more than a decade. Chile's Penta probably paid no more than $1 million.
Fitch Ratings's Richard Hunter and Joe Borman, who visited Chile last month, said the scandals need to be seen in perspective.
"Is Chile one of those countries with poor corporate governance? No," Hunter, Global head of corporate ratings, said in an interview in Santiago. "Is Chile even close to being on that list of countries? No."
Patricio Melero, a deputy for the UDI party, the party at the center of the Penta campaign financing scandal, traces the current problem back to the electoral financing law 12 years ago. The bill prohibited parties from receiving funds more than two months before an election, and inadvertently pushed them to look for unofficial financing schemes.
Ethical Standards
"The illegal financing in politics was a generalized practice for the past 12 years," Melero said. "The big difference now is that ethical standards are higher and there is a crisis of confidence."
But Maria Olivia Monckeberg, head of the journalism department at the University of Chile, said a lot of graft went unreported under Pinochet's dictatorship between 1973 and 1990, or was only lightly sanctioned in the years after that.
"This corruption is systemic with a lot of history behind it," said Monckeberg, the author of "The Plunder," an account of the sale of state-owned assets during the dictatorship.
"The fact that we now know about the scandals is a good sign," Patricio Navia, of New York University, agreed. "It is highly likely that these irregularities were common practice in the past."
The crackdown may already be having an effect. Government receipts from corporate and income tax leapt 8.2 percent above inflation in January from the year before.
The scandals show that "Chile is growing increasingly less tolerant of these kinds of practices," Navia said. "Today, we have a more solid democracy and a more powerful civil society. There is zero risk of Chile becoming a Venezuela."
Before it's here, it's on the Bloomberg Terminal.
LEARN MORE