Aleynikov Lawyer Tells Jury Goldman Code Copying Is No Crime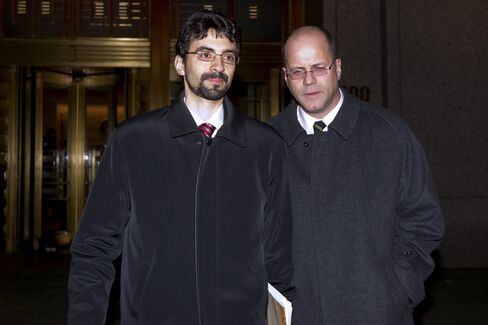 The former Goldman Sachs Group Inc. programmer facing a second trial for stealing the bank's trading code contends that while copying the data violated bank policy, it wasn't a crime.
Sergey Aleynikov, who spent almost a year in prison before his federal conviction was thrown out, was later charged by state prosecutors in Manhattan for the same offense. The programmer's actions should be a civil matter between him and the New York-based bank, defense lawyer Kevin Marino told jurors Wednesday at the start of the state trial.
"The only thing Sergey Aleynikov is guilty of is crossing Goldman Sachs," Marino told jurors in his opening argument. Violating a policy "cannot be converted into a criminal offense no matter how powerful your company is."
Manhattan District Attorney Cyrus Vance Jr. claims Aleynikov stole Goldman Sachs' high-frequency trading code and tried to cover his tracks when he left for a new job that more than doubled his salary. The Russian-born programmer denied the charges and rejected an offer to plead guilty in exchange for not serving more time.
He now faces as long as four years behind bars if convicted.
Aleynikov, 45, is charged with unlawful use of secret scientific material and unlawful duplication of computer related material.
Marino argued the charges aren't justified under state law because Goldman Sachs didn't lose the major economic benefit of the code.
Michael DuVally, a spokesman for Goldman Sachs, declined to comment on Marino's claims.
Aleynikov secretly created his own computer program to enter Goldman Sachs' systems and "pull down" more than 2,000 code files that were moved to an outside server, Assistant District Attorney Daniel Holmes told jurors.
"He didn't rely on his own genius or his own skill -- he wasn't content to do so," Holmes said. "This is not a case of someone taking a few extra pens on their way out the door."
The code was intended to help Aleynikov's new employer fast-track its own trading product, depriving Goldman Sachs of its competitive edge, the prosecutor said.
Federal Agents
Aleynikov admitted to federal agents as soon as he was arrested that he copied the code, the lawyer said.
Asked why he tried to conceal what he'd done, Aleynikov told the agents, "'I knew I was violating the policy and I didn't want them to sue me,'" Marino said.
"He's regretted it every day for the last six years," the lawyer added. "There's no dispute that he shouldn't have copied this stuff."
The laws Aleynikov is accused of violating would require the bank to lose the majority of the code's economic value, and Aleynikov would have needed to make "tangible" copies, he told the jury. "Aleynikov did not under any circumstances acquire the major portion of its economic value," Marino argued. "And there isn't a tangible reproduction that you will see in this courtroom."
Airport Arrest
Aleynikov's trip through the federal and state criminal justice systems began six years ago.
FBI agents arrested him at Newark Liberty International Airport in New Jersey in July 2009 as he returned from Chicago. He had taken a job with Teza Technologies LLC, the firm founded by former Citadel Investment Group LLC high-frequency trading chief Misha Malyshev. Teza suspended Aleynikov after his arrest and later fired him.
Convicted by a jury in Manhattan federal court in 2010, he was sentenced to eight years in prison. In 2012, his conviction was reversed.
The U.S. Court of Appeals in New York threw out the verdict because the laws used didn't bar the alleged crime.
The second prosecution doesn't violate double jeopardy protections because it's brought by a state and not the U.S.
Flash Boys
Aleynikov, whose 2009 arrest served as an inspiration for author Michael Lewis' best-selling book "Flash Boys," was the first of a group to be charged by Vance with stealing intellectual property from financial firms.
Prosecutors have called the Goldman Sachs computer code the bank's "secret sauce."
Vance began filing charges in such cases as Wall Street became increasingly protective of trading models and software code. Firms seeking millisecond advantages over rivals through strategies such as high-speed trading rely on technology to win.
In February, Kang Gao, a former analyst at the quantitative hedge fund Two Sigma Investments LLC, pleaded guilty in state court in Manhattan to taking that firm's data. He was sentenced to a 10-month term.
His plea came a day after Jason Vuu, of San Jose, California, was sentenced in the same court to five years' probation. He was charged with stealing computer source code and strategies from Flow Traders, an Amsterdam-based trading house.
Vuu was charged by Vance in 2013 along with another ex-Flow Traders employee, Glen Cressman, of Fort Lauderdale, and Vuu's former roommate, Simon Lu, of Pittsburgh.
Cressman pleaded guilty in December, and Lu pleaded guilty last month.
The case is New York v. Aleynikov, 04447-2012, New York State Supreme Court, New York County (Manhattan).
Before it's here, it's on the Bloomberg Terminal.
LEARN MORE