Vivendi Bids for Video Site Dailymotion as PCCW Drops Out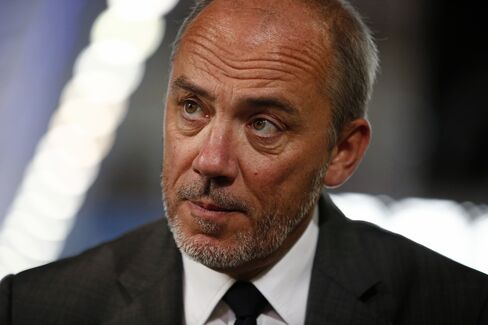 Vivendi SA offered to buy YouTube's smaller rival Dailymotion from Orange SA while another bidder, Hong Kong-based PCCW Ltd., said it dropped out because France prefers a European purchaser for the video service.
Television and music company Vivendi, based in Paris, confirmed the proposal in a statement Tuesday, without giving details. The offer will be discussed at an Orange board meeting today, Le Monde reported earlier, without citing anyone. Vivendi may pay more than 250 million euros ($273 million), Figaro reported, also without saying how it got the information.
Orange, France's largest phone carrier, has been seeking a partner to help boost Dailymotion's business outside its home market. Chief Executive Officer Stephane Richard said last month he was talking to PCCW and others interested in a minority stake in Dailymotion. The Financial Times said last May that Vivendi's Canal Plus was in informal talks with Orange about a Dailymotion stake.
A Vivendi representative declined to comment beyond the company's statement. A representative for Orange also declined to comment. PCCW said on Monday it had ended talks because of France's resistance to a non-European purchaser.
Shares of Vivendi added 1 percent to 23.46 euros at 9:55 a.m. in Paris. Orange gained 0.8 percent to 15.21 euros.
Strategic Asset
Orange, formerly France Telecom, bought its initial 49 percent stake in Dailymotion, a competitor to Google Inc.'s YouTube video-streaming service, in 2011 for 58.8 million euros, and paid 61 million euros in 2013 to gain full control. Dailymotion, created in 2005 by Frenchmen Benjamin Bejbaum and Olivier Poitrey, gets more than 100 million unique visitors a month, about a 10th of the number for YouTube.
In 2013, Orange's talks on a transaction with Yahoo Inc. fell apart after then-Industry Minister Arnaud Montebourg blocked the sale of Dailymotion to a foreign investor and called the asset strategic. France owns a 24.9 percent stake in Orange.
France's Industry Minister Emmanuel Macron, speaking last week through a representative, said all options must be studied for Dailymotion, while keeping in mind the digital sovereignty of Europe.
Before it's here, it's on the Bloomberg Terminal.
LEARN MORE