Part of America's advantage over other economies historically has been the pace at which it both creates and destroys jobs. As they face slowing prospects or failure, companies, even whole industries, cut workers . The good news is that new businesses keep popping up to supply new jobs.
More than 7 million jobs are created, and almost as many are destroyed, every quarter in the U.S., according to Maximiliano A. Dvorkin, an economist at the Federal Reserve Bank of St. Louis. That's healthy because "resources are allocated to alternative — presumably better — uses," he wrote in a March 27 blog post.
Except the pace of that churn is slowing.
Dvorkin found a disturbing trend affecting most of the industries that saw the largest net job gains and losses in the most recent downturn and subsequent recovery. Here's a chart tracking the trend in the construction industry: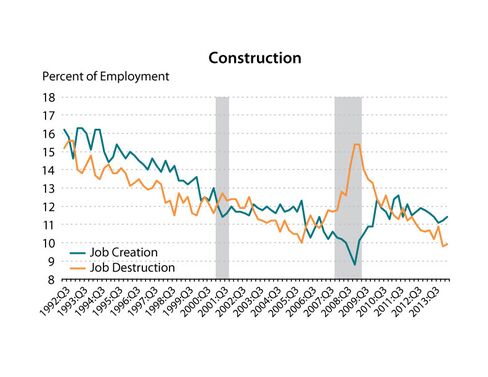 And in leisure and hospitality: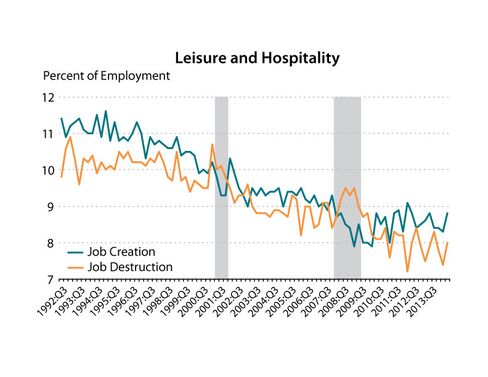 And in professional and business services: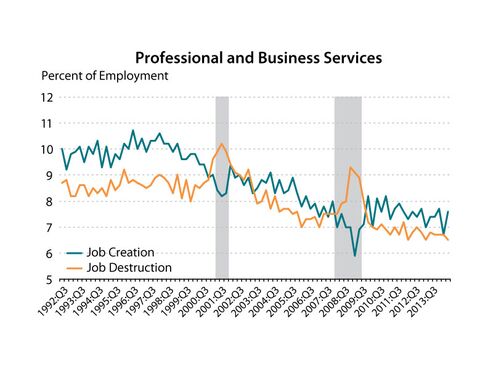 "Despite the large cyclical swings in net employment and gross job destruction and creation rates, most industries share a common feature: The rate of job creation and destruction has been falling," he wrote.
That points to two consequences for U.S. workers. Jobs last longer, as does the typical bout of unemployment. Indeed, those out of work for at least 27 weeks represented 30 percent of all unemployed in March, compared to 11 percent in March 2000, according to the U.S. Bureau of Labor Statistics.
Part of the explanation, Dvorkin wrote, may be found in the dearth of young companies, which have higher rates of hiring and letting workers go. In 2014 just 34 percent of employers had been in operation for less than five years, accounting for 14 percent of jobs. That's down from 2000 when 41 percent were that young, accounting for 25 percent of jobs.
For more on the global economy, check out Benchmark:
Before it's here, it's on the Bloomberg Terminal.
LEARN MORE