Statues Defaced as S. Africans Protest Colonial-Era Symbols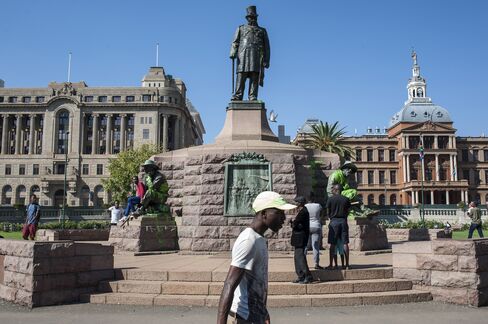 The Economic Freedom Fighters, South Africa's second-biggest opposition party, said its members were among people who defaced statues in protest over symbols that remain from the country's colonial and apartheid past.
The statue of Paul Kruger, a president of the Afrikaner-led Transvaal Republic before the Anglo-Boer war, and four figures of townspeople around him, were splashed with green paint in Pretoria's Church Square on April 5. Statues of Britain's King George V in Durban and Queen Victoria and the Horse Memorial in the coastal town of Port Elizabeth were also vandalized over the Easter holiday weekend. In March, the statue of Cecil John Rhodes at the University of Cape Town was smeared with human excrement.
The "statues should be taken down," Moafrika Mabongwana, EFF deputy chairman for Tshwane, the municipal area that covers the capital Pretoria, said in a phone interview on Tuesday. "We don't agree that these statues should be put in public places. We aren't saying that history should be erased. All the statues should be identified and taken down."
In the 17th century Dutch and French settlers arrived in what is now South Africa's Western Cape province. Later the British arrived and Rhodes helped to expand the U.K.'s influence as head of the provincial government and by funding an expedition that led to the colonization of what is now Zimbabwe. The government that created apartheid laws came into power in 1948 and the country's first all-race elections were held in 1994.
While some towns and street names commemorating apartheid and colonial-era leaders have since been changed, many historical symbols have remained.
Building Resistance
"If you want to change these statues, defacing them is exactly the wrong way to go about it because it builds resistance," JP Landman, a Johannesburg-based independent political and economic analyst, said in a phone interview.
After paint was thrown on Paul Kruger's figure, the Star newspaper pictured three members of AfriForum, an organization focused on protecting the rights of Afrikaners, protesting at the base of the statue with a sign that read "Ons gaan nerens," which means "We are not going anywhere."
Kruger's statue is now being guarded by police and any further damage to the figure may result in prosecution, Blessing Manale, Tshwane's mayoral spokesman, said in a phone interview. There's also a team of people cleaning the statue, he said.
'Painful History'
"As a government that promotes a transformative national agenda we also accept that the past cannot, and should not, be completely wiped off," Nathi Mtethwa, South Africa's culture minister, said, according to Business Day newspaper.
The main political opposition party to the ruling African National Congress, the Democratic Alliance, condemned the EFF's "senseless" destruction of statues in a statement on Monday.
The University of Cape Town met for a second day on Wednesday to decide on whether or not to move the statue of Rhodes, who donated the land that the university's main campus sits on. University Vice Chancellor Max Price has said he believes the statue should be moved.
"The calls for Rhodes and other statues to fall are a symptom of the underlying problem of a lack of transformation in the institutions and in society in general," Zizi Kodwa, national spokesman for the ANC, said in an e-mailed statement. "South Africa must continue to engage on how best we preserve this painful history so that we never forget in support of our young democracy. We must also debate the meaning our different people attach to these symbols."
Many Monuments
The ANC doesn't support the destruction of property and feels that future generations need a reference to history, Kodwa said in an interview.
South Africa has other memorials and statues that may face being renamed or being removed. There is Rhodes Memorial, just above the University of Cape Town, and there's Kruger National Park, named for Paul Kruger, with another statue of him at one of the park gates. In Franschoek, about an hour from Cape Town, there is the Huguenot Monument, dedicated to the French immigrants, and close by in Paarl there is a monument to the Afrikaans language, and in Pretoria there's the Voortrekker Monument that commemorates the Afrikaners who fled from the British in the Western Cape, trekking north in ox-wagons.
"I do not like the idea of wiping out history and destroying or removing a statue," Adam Habib, the vice chancellor of Johannesburg's University of the Witwatersrand, said in an e-mailed response to questions. "Instead, I would have preferred to build a new statue commemorating the victims next to the Rhodes statue with a plaque telling their story."
Legal Issues
Many of South Africa's memorials, monuments and statues are protected by the National Heritage Resources Act. While students at UCT want Rhodes' statue moved as soon as possible, and the university's vice chancellor has said he also wants it to be moved, the heritage laws will have to be considered.
"The mistake made is that more layers of history and statues and memorials weren't added after apartheid ended," Alana Bailey, deputy chief executive officer of Pretoria-based AfriForum, said in a phone interview. "We feel a national debate is needed before expenses are incurred and changes are made. I feel political leadership is lacking on all sides."
Before it's here, it's on the Bloomberg Terminal.
LEARN MORE