Record U.S. Capital Spending Is Last Thing the Market Wants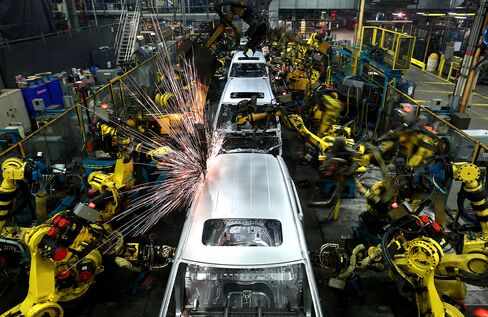 If you're an American chief executive officer with a couple million dollars to blow, you may want to think twice before using it to expand plants or add equipment.
That's the message from equity markets, where shares of companies using the biggest portion of their cash on capital expenditures in 2014 trailed those that spent more on dividends and buybacks, according to data compiled by Barclays Plc. While the underperformance didn't keep corporate investment from hitting a record last year, the rate of growth in repurchases was higher.
The research is the latest to depict the U.S. stock market as being addicted to cash inducements provided by companies to investors at the expense of businesses and employees. Barclays's chief equity strategist, Jonathan Glionna, said that while the data should dispel concern that companies have abandoned projects that boost profits and stoke economic growth, it shows the market prefers other uses for money.
"There's plenty of capex spending and companies that spend more have generally been underperforming," Glionna said via phone on April 2.
It's a problem if investors are more apt to reward spending with the least value to the economy, said Marshall Front, who manages $800 million at Front Barnett Associates LLC in Chicago. Over longer periods they're better off rewarding capital spending, which boosts revenue down the supply chain and gets more people working, he said.
"You create a self-fulfilling virtuous cycle of constructing buildings, hiring people and creating more things, whereas very little in the productivity cycle comes out of buybacks," Front said. "There's a limit to how far you can go with this."
Capital Expenditures
S&P 500 companies hold $1.6 trillion in cash and marketable securities, data compiled by Bloomberg show. They've been increasing capital expenditures every year since 2009 and spent $730 billion in 2014, the highest ever, according to Barclays, with companies like Chevron Corp. and AT&T Inc. investing more than $20 billion in the last year.
At the same time, companies in the benchmark index spent a sum equal to 95 percent of their earnings on repurchases and dividends in 2014, data compiled by S&P and Bloomberg show. That includes $553 billion of buybacks in 2014 and a total $1 trillion in the past two years, the biggest two-year sum in history, according to data going back to 1998. The S&P 500 has added 1.1 percent this year, compared with a 2.9 percent advance in an S&P index tracking the top 100 stocks with the highest buyback ratio.
"It may seem unjust that the equities of companies that make long-term capital investments in their businesses perform worse than the equities of companies that buy back their shares," Glionna wrote in the report. "We do not see this trend changing."
Spending Gap
Instead of creating a basket of stocks representing each group of companies -- those spending the most on capital expenditures, buybacks or dividends -- Glionna's team created indexes measuring the difference in return between the biggest and smallest spenders in each respective category.
A gauge measuring the gap in returns between companies with highest and lowest capex has fallen 8 percent since 2010, compared with a 2 percent increase in a gauge tracking companies doing stock buybacks. High dividend spenders did even better.
"If you do it on a spread basis you isolate the impact of capex," Glionna said. "The reason we don't just use a basket of stocks with the most capex is because it will be too influenced by the direction of the market -- the basket might be going up just because the market's going up."
Buyback and dividend shares outperformed even though investors surveyed by Glionna claimed they preferred other uses. It showed 35 percent of respondents said corporations should deploy excess cash through capex, compared with 25 percent for dividends and 17 percent for buybacks.
Over the last two years, capital expenditures have increased just 11 percent, compared with a 45 percent jump in the amount spent on buybacks and a 21 percent increase in dividends.
Before it's here, it's on the Bloomberg Terminal.
LEARN MORE