Qatar LNG Exports Shrink From Record as Australia, U.S. Expand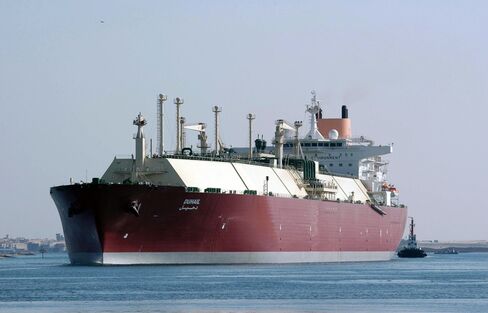 Qatar, the world's biggest producer of liquefied natural gas, cut exports of the fuel for the first time since at least 2006 as Australia and the U.S. prepare to erode the Middle Eastern nation's dominant position.
Qatari volumes dropped 2.1 percent from a year earlier in 2014 after at least eight years of gains, the International Group of Liquefied Natural Gas Importers said in its annual report to be published Wednesday. The nation's share of global LNG imports shrank to 31.9 percent from a peak of 32.9 percent in 2013, according to the data from the Paris-based lobby group known as GIIGNL.
"The industry is waiting for the wave of new exports from the U.S. and from Australia, who will likely top the producers' list by 2020," Domenico Dispenza, GIIGNL president, said in the report. "The dominant market share and role of Middle East producers will diminish."
Qatar, whose North Field is part of the world's biggest gas reservoir, dominates the market with output from its 14 LNG plants, known as trains. The nation has capacity to produce 77 million metric tons a year of the fuel, or 26 percent of the world's total. That is being challenged by Australia and the U.S., which are building a total of 99 million tons of annual capacity, according to estimates from BG Group Plc, a Reading, England-based LNG producer and trader.
Global Trade
Global LNG trade rose 1 percent to 239.2 million tons in 2014, still less than a record 240.8 million in 2011, according to GIIGNL. Global liquefaction capacity increased 4.2 percent to 298 million tons a year.
"Although one new liquefaction plant came on stream in May in Papua New Guinea and one expansion train started producing in Algeria, disappointments in Angola and Egypt and slowdown in Qatar limited the volume of additional LNG supply," Dispenza said.
Qatari volumes dropped to 76.4 million tons from 78 million in 2013. While gas production fell to 2.8 million barrels of oil equivalent a day in 2014 from 2.9 million due to maintenance shutdowns, output is expected to increase this year, Qatar National Bank Group said April 5.
Australia, which started expanding its production capacity late last year, boosted its market share to 9.9 percent from 9.5 percent, GIIGNL said. The U.S. is poised to start LNG exports from the Gulf of Mexico at the end of this year.
Three Basins
Yemen and Oman, the Middle East's other LNG producers, cut exports by 8.1 percent and 7.5 percent, respectively, while Abu Dhabi boosted exports 20 percent. The region accounted for 40 percent of global imports last year, down from 41 percent a year earlier. The Pacific region's share climbed one percentage point to 38 percent, the data showed.
The Atlantic basin, the third LNG producing region, boosted supply by 3.5 percent, the first rise since 2010, GIIGNL data showed. Nigeria, Africa's biggest producer, increased supply by 16 percent because of "much improved feed-gas supply," GIIGNL said. Algerian shipments rose 18 percent after one new train started, the group said.
Spot and short-term trades under contracts lasting four years or less expanded 7 percent to 69.6 million tons in 2014, GIIGNL said. The flexible volumes, as opposed to those contractually tied to one destination, made up 29 percent of total LNG trade, up from 27 percent a year earlier, according to the lobby group.
Re-exports of previously imported cargoes surged to a record 6.35 million tons, 51 percent more than the previous year, GIIGNL said. Spain led the practice, boosting reloads 80 percent to 3.84 million tons. Belgium, France, the Netherlands and Portugal also re-exported more fuel, the data show.
Turkish Growth
Turkey led import growth in Europe last year, followed by the U.K. and the Netherlands. Lithuania started imports, while the region's other nations cut purchases, GIIGNL said. In Asia, Singapore boosted imports 85 percent, followed by India with an 11 percent increase. Brazil's growth was 29 percent, followed by Mexico with a 16 percent gain, while Argentina cut imports 6.4 percent.
LNG prices tumbled 61 percent from a February 2014 peak through March 30, amid milder weather and additional supply in Asia as well as declining oil prices, according to assessments by World Gas Intelligence of cargoes for delivery to northeast Asia in four to eight weeks.
"During the second half of the year a sharp decrease in crude oil prices combined with a looser supply situation in the Pacific drove down prices in Asia," Dispenza said. "On the demand side, it has begun to translate into the return of flexible LNG cargoes to Europe, where spot prices have been disconnected from oil prices for some time."
Before it's here, it's on the Bloomberg Terminal.
LEARN MORE