Merkel Deputy: Greek War Claims Debate Is 'Dumb' Burden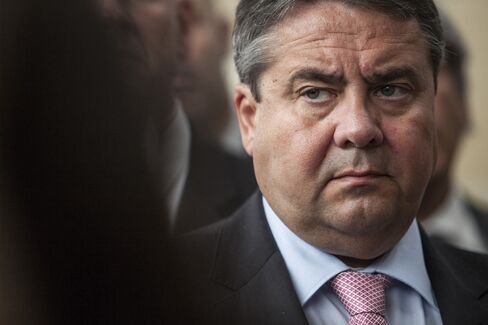 Greece's insistence on German reparations for World War II is a "dumb" distraction, Chancellor Angela Merkel's deputy said, snubbing a claim of 278.7 billion euros ($303 billion) calculated by the government in Athens.
As Germany seeks a way to aid Prime Minister Alexis Tsipras's government and keep the euro area intact, reparations demands are unrelated and make it easier for critics to balk at helping Greece, Vice Chancellor Sigmar Gabriel said Tuesday.
"This doesn't advance us one millimeter in terms of stabilizing Greece," he said during a panel discussion in Berlin. "Honestly, I think it's dumb."
The number cited in parliament by Greek Alternate Finance Minister Dimitris Mardas, which almost matches this year's German federal budget, extends a dispute that's flared as Greece seeks financing from euro-area partners while pledging to end fiscal austerity its leaders blame mostly on Germany.
Germany's position, shared by the three parties in Merkel's government, is that the treaty reuniting East and West Germany and the post-Cold War Paris Charter, both signed in 1990, legally ended war reparations.
The government's view that the case is legally and politically closed hasn't changed, a Finance Ministry spokesman said Tuesday, asking not to be identified in line with policy.
Heavily Burdened
"If you bring two issues that have nothing to do with one another, both heavily burdened issues politically, into a single context, then you make it damned easy for those from whom you want something simply to exit the debate and say 'You can't do that,'" said Gabriel, who also is economy minister.
Greece will deliver a payment to the International Monetary Fund this week and seeks to complete talks on economic changes needed to unlock more funding by a meeting of euro-area finance ministers on April 24, Euclid Tsakalotos, the minister for international economic affairs, said Tuesday.
"We're doing our best to reach a new deal for what we think is good not just for the average Greek, but for the average European," he told Bloomberg Television.
Greece, Europe's most-indebted state, is negotiating with euro-area countries and the IMF on the terms of its 240 billion-euro rescue. The standoff, which has left Greece dependent upon European Central Bank loans, risks leading to a default within weeks and its potential exit from the euro area.
Merkel has said that while the question of reparations is closed for Germany, she's open to talks on a separate fund. The German government plans to spend 299.5 billion euros in this year's budget.
Before it's here, it's on the Bloomberg Terminal.
LEARN MORE