U.S. Wages Will Be 58 Times Indonesia's By 2019
Manufacturing wages in Indonesia, Vietnam and the Philippines will rise quickly, while staying well below China's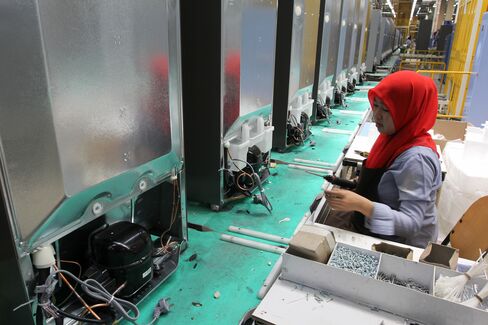 Factory workers in the U.S. will be paid 58 times those in Indonesia in five years, according to the Economist Intelligence Unit. If that seems like a big difference, consider this: U.S. wages are 76 times Indonesia's today.
Hourly manufacturing wages in the U.S. will rise 12 percent to $42.82 by 2019, according to the EIU. While Indonesia's wages are forecast to increase at a much faster pace -- gaining 48 percent -- they would still only be 74 cents an hour in five years. That's way lower than China's $4.79, Vietnam's $3.16 and the Philippines's $3.15.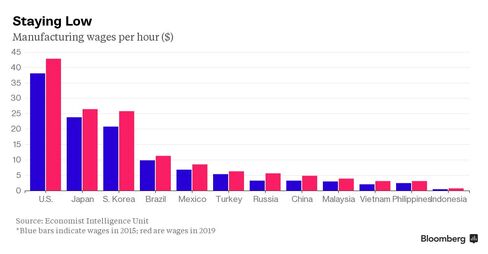 Indonesia is trying to establish its manufacturing credentials in an increasingly competitive neighborhood, with countries including Vietnam and the Philippines also fighting to woo investors looking for alternatives to a pricier China.
Indonesia's government has faced pressure to raise wages. Thousands of workers protested in Jakarta in December as part of a nationwide strike for higher pay after President Joko Widodo raised fuel prices.
The one factor in manufacturers' favor: the young populations in Indonesia, the Philippines and Vietnam may help keep a lid on wage growth.
"Manufacturing labor costs are already higher in China than in India, Indonesia and Vietnam -— countries often cited as well-placed to benefit from rising Chinese prices," the EIU said in a report. "This disparity will widen further in the coming years, as wage growth in these countries is kept down by strong expansion in labor supply."
That's good news for Indonesia, if it can keep its workers happy.
Before it's here, it's on the Bloomberg Terminal.
LEARN MORE