Russia Wants Ukraine to Seek Direct Debt-Restructuring Talks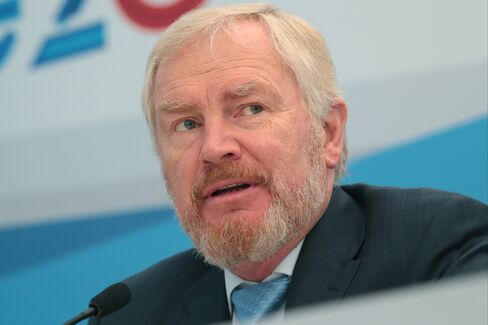 Russia said only direct talks with Ukraine may change its refusal to join debt restructuring negotiations, as a deadline looms for the authorities in Kiev to unlock vital aid for the country's battered economy.
There has been no official contact with Ukraine's Finance Ministry about renegotiating $3 billion of Eurobond debt, Russian Deputy Finance Minister Sergey Storchak said in an April 3 interview in Moscow. Russia expects to be paid on time and in full when the debt matures in December, he said.
"We are not going to join any offer that they are getting ready," Storchak said. "Only one thing can influence our position -- some direct contact with the debtor."
Ukraine wants to restructure almost all of its external sovereign debt in negotiations to save $15.3 billion in public sector financing under its bailout agreement with the International Monetary Fund, the Finance Ministry in Kiev said on Saturday. Russia, the second-largest bondholder after Franklin Templeton, refuses to join restructuring talks, saying the debt it holds was official aid to Ukraine's struggling economy under former President Viktor Yanukovych.
IMF Aid
Ukraine should complete negotiations with creditors in May to obtain more funds under the IMF's $17.5 billion aid package, the Finance Ministry said on its website on April 4. Finance Minister Natalie Jaresko said in March that all loans and bonds should be treated the same, and that bondholders should strike a deal now amid "extraordinarily unpredictable" risks linked to a fragile truce in the yearlong conflict with pro-Russian separatists in Ukraine's east.
The government's benchmark bond due in July 2017 fell 0.217 cents to 40.808 cents to the dollar at 3:03 p.m. in Kiev. The hryvnia, which has fallen 33 percent against the greenback this year, the world's worst performer, weakened 0.4 percent to 23.533 per dollar.
Russia's $3 billion of bonds give President Vladimir Putin leverage over Ukraine's government, whose finances are being stretched by the pro-Russian insurgency that has cost more than 6,000 lives. The U.S. and the European Union imposed sanctions after accusing Russia of sending troops and weapons to support the separatists in Ukraine, an allegation that Russia rejects.
Talks Invitation
Russia purchased the bonds in December 2013 after Yanukovych rejected an association agreement with the EU in favor of closer ties with the government in Moscow. He was ousted in February last year and fled Ukraine after violent clashes between police and protesters who supported the European trade pact.
Ukraine wants to restructure all external sovereign debt incurred before March 2014 and publicly invited all bondholders through the clearing system to take part in negotiations, the Finance Ministry said in e-mailed comments on April 6.
This included those holding bonds issued in December 2013, though "to date, the Ministry has not received any response through the designated website to its invitation from the holders of such bonds," it said.
The debt Russia holds should be seen as "official" state aid, Russian Finance Minister Anton Siluanov said on March 27. The only concession it was willing to make was not to enforce a clause providing for early repayment once Ukraine's public debt surpassed 60 percent of gross domestic product, he said.
Bondholder Losses
Holders of Ukraine's bonds have suffered losses of more than 40 percent since the beginning of 2014, the worst performance among countries in the Bloomberg USD Emerging Market Sovereign Bond Index. The bonds handed investors a 25.7 percent loss this year, while the index gave a return of 2.81 percent.
Ukraine's economy shrank 7 to 10 percent in the first quarter, Jaresko said on March 24. Inflation accelerated to 45.8 percent in March compared to a year earlier, the highest in Europe, the state statistics office reported on Monday.
Investors in Ukrainian debt who are willing to take part in talks with the government should register and apply through Lazard Ltd., according to a presentation dated March 13 on the website of Ukraine's Finance Ministry.
Russia won't register with the company since it is clear what Russia's holdings are, Storchak said.
"We have no obligation to be in one wagon with those creditors who purchased Eurobonds on the secondary market at a price that was far from the nominal price," he said. "Those creditors can be much more flexible and, of course, during the negotiations can afford different options. We, in fact, don't have an opportunity to work with different options."
Before it's here, it's on the Bloomberg Terminal.
LEARN MORE