Bulls Cheer Vivendi as Clash With Activist Schoenfeld Escalates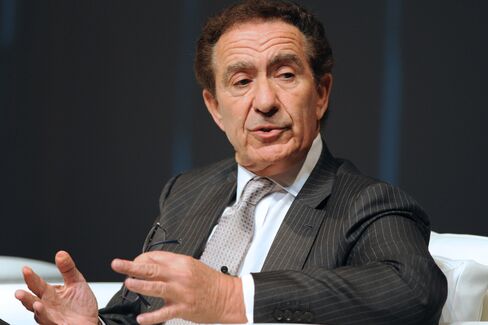 Investors see a bullish outcome to Vivendi SA's tussle with Wall Street activist Peter Schoenfeld.
Traders may be betting that the French media company's chairman, Vincent Bollore, will at least partially cave in to Schoenfeld's demands to increase shareholder returns, says Liberum Capital Ltd.'s Ian Whittaker. Calls are the most expensive versus bearish puts in nine months, one-month options data compiled by Bloomberg show.
The founder of P. Schoenfeld Asset Management has called for higher returns from Vivendi's 18 billion-euro ($19.8 billion) cash pile, demanding 9 billion euros in payouts and the sale of the Universal Music Group unit. Vivendi shares jumped more than 3 percent on the day it announced Schoenfeld's dividend request, and have since outpaced European peers.
"Investors could be buying the options betting that Bollore will do something," said Whittaker, an analyst at Liberum in London. "Maybe he'll throw a bone out there that could satisfy some people."
Vivendi's proceeds from selling more than $30 billion of assets to refocus to media from telecommunications has sparked questions about how the company plans to spend its money. The stock advanced 1.2 percent today in London to close at a 6 1/2 year high after Vivendi bid 217 million euros for Orange SA's online video service Dailymotion.
Bollore, France's ninth-richest person with a net worth of about $6 billion, has faced opposition to his plans for companies before. Last week he upped his holdings in Vivendi for a second time, boosting it to 12.01 percent, and is advising shareholders to vote against Schoenfeld's plans at an April 17 meeting. Schoenfeld's firm owns 0.8 percent.
Investors Balked
Vivendi's February proposal to return 5.7 billion euros through dividends and buybacks was lower than expected, and repurchases were capped to shares priced at a maximum of 20 euros each -- the stock has been above that price since January. Investors balked. The shares tumbled 4.9 percent on March 2. Vivendi has also rejected calls to spin off Universal Music, the world's largest music company.
Yet companies have caved to activist pressure in the past. Apple Inc. bowed to David Einhorn's demand for a dividend, while Carl Icahn successfully campaigned for Transocean Ltd. to increase its payout. General Motors Inc. also ceded to a buyback following an activist's push.
A Vivendi spokesman declined to comment on the options trading or Schoenfeld's demands. A spokesman for Schoenfeld also declined to comment.
Legal Action
Vivendi has also warned it may bring legal action, citing a French law that prohibits non-European investors from owning more than 20 percent of a broadcasting company.
Investors this month also vote on a proposal that would give longer term holders like Bollore twice as many votes as new investors. Retirement System and Amundi Group SA are among shareholders backing PhiTrust Active Investors in fighting the plan.
While that suggests shareholders will challenge some positions, the warning of legal action also signals compromise may not be part of Bollore's agenda, said Conor O'Shea at Kepler Cheuvreux SA.
Vivendi's plan "seems more likely to invest for long-term value creation rather than maintain a very high payout ratio," said O'Shea, a Paris-based analyst at Kepler. "They certainly have the additional cash, but to cave in would set a dangerous precedent for getting the board to do your bidding and might imply the shareholder base isn't fully behind the current chairman."
Expensive Calls
The last time investors paid this much for calls over puts was in June, when Bollore took over as chairman. Ownership of bullish Vivendi options is at the highest level versus that of bearish contracts in three months, the data show.
"A surge in Vivendi's share price would come from the company accepting activists' demands," said Antoine Porcheret, an equity derivatives strategist at BNP Paribas SA in London. "Buying tiny-premium calls still provides a nice risk/reward to a tail event" of Vivendi ceding to activist demands, he said.
Before it's here, it's on the Bloomberg Terminal.
LEARN MORE