Netanyahu: More Sanctions Would Get Better Iran Nuke Deal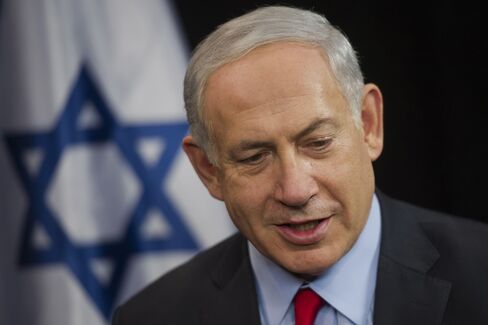 Israeli Prime Minister Benjamin Netanyahu said the U.S. and world powers should increase sanctions on Iran to negotiate a better deal on Tehran's nuclear program, advice quickly rejected by the White House.
Netanyahu used appearances on three U.S. Sunday television talk shows to drive home his opposition to what he called a bad deal with Iran that would leave the Persian Gulf nation able to produce "many nuclear bombs" within years.
Unless the agreement is changed, he said, "This deal is a dream deal for Iran and a nightmare deal for the world."
The U.S. and five other world powers announced a preliminary deal Thursday that they said would curb Iran's ability to enrich uranium and give international inspectors unfettered access to nuclear sites in exchange for a gradual easing of economic sanctions.
Optimism about the deal boosted Middle Eastern stocks on Sunday. Dubai's DFM General Index rose 1.4 percent to its highest close since March 12. The Tehran Stock Exchange's main index jumped 3.5 percent.
Netanyahu urged an overhaul of the framework for the deal, the details of which must be hammered out by June 30.
"There is still time," the prime minister said on NBC's "Meet the Press" program. "You can ratchet up the sanctions."
Not Constructive
Removing sanctions would mean "billions of dollars flowing into the Iranian coffers to pump up Iran's terror regime," Netanyahu said on CNN's "State of the Union."
The deal also could "spark a nuclear arms race among the Sunni countries in the Middle East," he said on ABC's "This Week" program. "That's a global danger."
Netanyahu said the deal should tie any sanctions relief to a change in Iran's aggression in the region.
"If you press Iran strongly enough, what seems unrealistic today becomes realistic," he said.
Senator Dianne Feinstein of California, the top Democrat on the Senate Intelligence Committee, said Netanyahu's criticism of the deal wasn't constructive.
"I wish that he would contain himself because he has put out no real alternative," Feinstein said on CNN. "More sanctions will certainly drive the program more underground."
Netanyahu declined to say whether he would consider air strikes on Iran's nuclear facilities, though on ABC he said, "We prefer a peaceful solution."
When asked why President Barack Obama would agree to a deal that threatens the survival of Israel, as Netanyahu said on his Twitter account last week, the prime minister said, "We have a legitimate difference of view."
Best Alternative
Ben Rhodes, Obama's deputy national security adviser, said the White House knows Netanyahu won't be swayed to support a deal.
"We're not going to convince Prime Minister Netanyahu," Rhodes said in an interview on CNN's "Fareed Zakaria GPS."
While the U.S. will continue to speak out on Iran's aggression in the Middle East, more sanctions won't yield a better deal, Rhodes said.
Every time sanctions have been increased on Iran, "they've advanced their program," he said. "In the world of alternatives, this is the best alternative," Rhodes said of the agreement.
Before it's here, it's on the Bloomberg Terminal.
LEARN MORE