Mongolia PM Takes to TV and Texting to Win Back Investment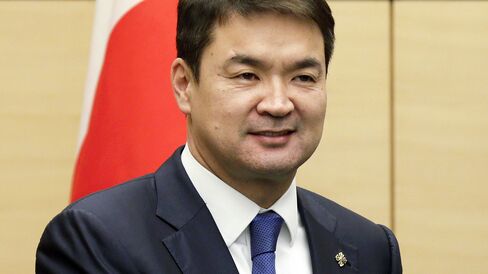 Mongolian Prime Minister Saikhanbileg Chimed stands out from predecessors in his use of national television and texting to get his message across to the public: Without foreign investment, the economy is going nowhere.
The 46-year-old, who won office in November after the previous PM was ousted in a no-confidence vote, was back on TV Sunday to report progress in the protracted dispute with Rio Tinto Group over the Oyu Tolgoi copper and gold mine.
"The two sides have reached agreement, in principle, on the main points of dispute," said Saikhanbileg, speaking in his office surrounded by family photos and a portrait of 13th century warlord Genghis Khan. "Soon we will officially announce these results to the international community, after bureaucratic levels finalize relevant steps."
In addition to signaling an end to two years of talks between the government and Rio, which controls Oyu Tolgoi, Saikhanbileg said that negotiations with a foreign consortium to develop the $4 billion Tavan Tolgoi coal deposit will also be finalized soon, and that talks to build a $1.2 billion power station in Ulaanbaatar will be completed this month.
Earlier this year, the PM went on TV to ask the country's three million citizens to text a response to a question: Do they want austerity or prosperity? The majority of respondents went for the latter and Saikhanbileg has taken that as a mandate to revive overseas investment, which fell to $508 million last year from $4.45 billion in 2012.
TV Appearances
"Through his television appearances, Saikhanbileg is taking the nation's most critical discussions to the people of Mongolia," Chris MacDougall, managing director at Mongolian Investment Banking Group LLC, said by e-mail. "He is instigating a national dialogue."
In addition to a status update on big projects, the 27-minute address laid out government decrees and objectives ahead of parliament's spring session. They include a plan to issue Tavan Tolgoi shares to the public free of charge, tax reforms and a liberalization of energy prices.
Saikhanbileg also had words for his nationalist opponents, whom he believes have helped stymie Mongolia's growth.
"We have abused politics beyond comprehension in the last three years," he said. "We thought the mining commodities price would always be high, we became too arrogant with the little success we had, we believed that the rest of the world wouldn't affect us, as if we were aliens."
Economic Funk
Mongolia's current economic funk is a very different picture from 2011, when the economy expanded at a world-beating 17.3 percent as billions of dollars flowed in from some of the world's biggest mining companies. The Asian Development Bank's growth forecast for this year is 3 percent.
So, what went wrong? Mostly the Rio Tinto deal. The company had spent $6.6 billion developing one of the world's biggest copper and gold deposits at the Oyu Tolgoi mine.
That was until about two years ago when disputes over cost overruns, profit sharing, management control and a $30 million tax bill halted deployment of funds to get at the mine's deeper, richer deposits. Similar conflicts have held up development of the Tavan Tolgoi coal mine in the Gobi Desert.
Commitments for $4.2 billion in project financing to dig out more of Oyu Tolgoi, backed by more than a dozen global banks, expired in September and haven't been extended.
Bigger Mountain
Byambasaikhan Bayanjargal, the chief executive of Erdenes Mongol LLC, the firm that holds Mongolia's share of Oyu Tolgoi LLC, declined to comment on the status of the negotiations. Rio Tinto spokesman Ben Mitchell in Melbourne also declined to comment.
Solving Oyu Tolgoi is the bigger mountain to climb, so the expectation is that Saikhanbileg will focus on sorting out Tavan Tolgoi first.
"Tavan Tolgoi negotiations have reached the final round," he said. "I'm happy to note that the two sides have reached agreements in principle."
The companies that want to develop Tavan Tolgoi include Energy Resources LLC, China Shenhua Energy Co. and Sumitomo Corp. Ariunaa Baldandorj, a spokeswoman for Energy Resources, which is leading the consortium, didn't respond to a phone call or e-mails requesting comment.
A sticking point is $150 million owed by Erdenes Tavan Tolgoi, the state-owned company that holds the license to the deposit, to the Aluminum Corporation of China.
Before it's here, it's on the Bloomberg Terminal.
LEARN MORE