Stock Futures Point to Rough Ride for U.S. Equities on Jobs Data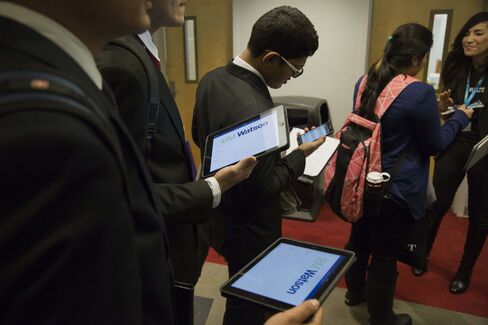 A touch of gloom settled on equity markets before a long weekend as the weakest U.S. jobs report in more than a year sent index futures down and added to concern the economy hit a soft patch last quarter.
June e-mini contracts on the Standard & Poor's 500 Index dropped 1 percent while Dow Jones Industrial Average futures slid 165 points after the Labor Department said employers added 126,000 workers in March, fewer than the most pessimistic forecast in a Bloomberg survey. Futures trading resumes at 6 p.m. New York time Sunday before U.S. exchanges reopen Monday at 9:30 a.m.
The increase in payrolls followed a 264,000 gain a month earlier that was smaller than first reported, according to the jobs report. While investors have occasionally welcomed such data on grounds they delayed a Federal Reserve interest rate boost, concern is building that too weak an expansion will worsen a drop in corporate profits.
"Overall we would avoid making any strong conclusions regarding the state of the economy, but the fact that this weak report follows a number of other poor data points means that both bond and equity markets will be very sensitive to any signs of weakness in the upcoming earnings season," wrote Michael Shaoul, who helps oversee $10 billion as chief executive officer of Marketfield Asset Management in New York.
Companies tempered the pace of the hiring in March as rough winter weather, tepid overseas markets and a slowdown in energy-related capital investment combined to sting the economy. Even with the moderation in March payrolls, persistent employment opportunities are keeping Americans upbeat and laying the ground for a rebound in spending.
Good Friday
While U.S. and European exchanges were closed for the Good Friday holiday, futures traded for 45 minutes after the employment report, giving investors a window to react.
"You can't overread a small fraction of the market's reaction to this," Neil Grossman, the St. Petersburg, Florida-based chief investment officer at Tkng Capital Partners, said by phone. "Embedded in these numbers is bad weather," he said. "Then what you have is the real effect, which is the combination of the dollar strengthening, which is having an effect on hiring here, and the oil patch having some weakness."
Earlier in the week, jobless claims unexpectedly fell, while a private payrolls report missed estimates. Other data in early 2015 has been the most disappointing in years, with retail sales slumping in January and February, residential construction weakening and manufacturing cooling.
'Bad News'
"People are viewing this as bad news is bad news for stocks," Andrew Brenner, the head of international fixed income for National Alliance Capital Markets, said by phone. "U.S. equity markets have been getting expensive and any way you look at it, the Fed is going to be tightening in their next move. They're not going to give any more stimulus."
The rate for fed funds futures for December fell four basis points to 0.34 percent on Friday, indicating about one-in-three odds of a rate increase by the Fed's meeting that month.
Fed Chair Janet Yellen said in a speech in San Francisco on March 27 that "it is appropriate for monetary policy to remain accommodative for some time," and that after an initial increase in rates this year, officials won't follow "any predetermined course of tightening."
Profits for S&P 500 companies are forecast to fall 5.8 percent in the first quarter as results were buffeted by tumbling oil prices and a stronger dollar. Investors may face the longest stretch of declines since the financial crisis, with slumps of 4.2 percent and 1 percent over the second and third quarters, according to analyst estimates.
Protecting Gains
Valuations for equities are hovering close to the highest since 2010, with the S&P 500 companies trading for just over 18 times earnings. At about 1.8 times sales, the index is the most expensive since 2001.
Traders have been taking actions in recent weeks to protect gains from the six-year-old bull market that has added $16 trillion to U.S. equity prices. In the options market, bearish puts on the S&P 500 outnumber bullish calls by the most since October 2008, data compiled by Bloomberg show. Puts, which pay off when prices retreat, are sometimes used by investors to lock in profits after stocks have climbed.
Stocks in the S&P 500 just completed the weakest quarter since a drop in the three months through December 2012, and investors withdrew more than $4.7 billion from an exchange-traded fund tracking the gauge in March.
Market Calm
Speculators have been piling into an exchange-traded note that lets them bet on how long days of calm will last in the U.S. stock market. The trade, using a six-year-old security known as VXX that sees more average daily volume than shares of Microsoft Corp. and Facebook Inc., has usually backfired amid the biggest bull market since the 1990s.
That hasn't curbed its popularity, with the iPath S&P 500 VIX Short-Term Futures ETN just completing an eighth straight week of inflows, a streak not seen in three years. The security rises and falls with equity volatility and usually amounts to a bet that the S&P 500 will weaken.
Sustained gains in U.S. stocks have proven elusive. The S&P 500 dropped 2.2 percent in the week ending March 27, posting at least three straight days of losses for the fourth time in 2015. At one point, the measure went 28 days without advancing in back-to-back sessions, the longest stretch since 1994.
The S&P 500 increased 0.3 percent for the holiday shortened week, with the benchmark gauge trading around a 15-point range framed by its 50-day and 100-day moving averages. The gauge fluctuated between gains and losses amid concern over the economy before the release of the jobs report.
"Futures are telling us we may be in for a little bit of a selloff on Monday," Larry Peruzzi, the Boston-based director of international trading at Cabrera Capital Markets LLC, said by phone.
Before it's here, it's on the Bloomberg Terminal.
LEARN MORE