What to Watch Out for in Today's ECB Monetary-Policy Accounts
Some important discussions to watch for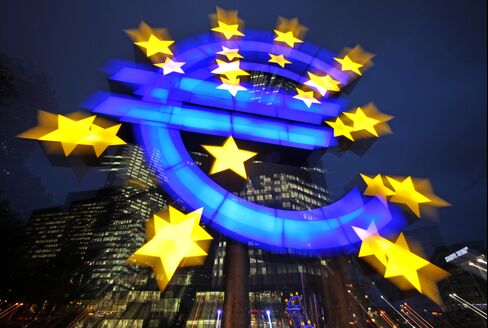 For the second time, the European Central Bank will today publish accounts of its monetary-policy meeting. The full minutes will be kept secret for 30 years and the summary of the March 4-5 debate won't reveal individual votes. Yet you might get some helpful insights if you look for the following things:
* Any hints on extending or tapering asset purchases of 60 billion euros ($65 billion) a month through September 2016.
* Any debate about whether there'll be enough assets to buy. Could the deposit rate be reduced further to make more bonds available if necessary? Keep in mind the deposit rate serves as a lower ceiling for purchases and as of this morning, for example, German 2-year and 3-year bonds were below the minus 0.2 percent threshold.
* Any progress on the debate who'll have to bear losses from buying bonds with negative yields.
* The sentiment around the economic forecasts. Are most policy makers on board with the ECB staff projections foreseeing inflation to rise to 1.8 percent in 2017 and GDP growth of 2.1 percent the same year?
* Anything on Greece and the sentiment about capital outflows, Emergency Liquidity Assistance and the country's reform path.
Before it's here, it's on the Bloomberg Terminal.
LEARN MORE