What the Nuclear Accord Means for Business Opportunities in Iran
Big business might have to wait a little longer before dealing with Tehran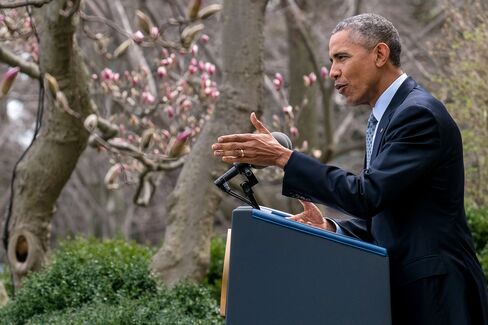 The phone line was buzzing Thursday at Jack Hayes's office at Steptoe & Johnson in Washington—several Fortune 500 clients wanted to know what the nascent nuclear accord in Iran meant for doing business in the Islamic Republic.
His answer: not much, at least for now, and at least for most U.S. companies chomping at the bit to reenter the economically isolated nation of 80 million people and the world's fourth-largest oil reserves.
"I can't see any major rollback of sanctions that will help the banking or insurance or natural resources industries," says Hayes, one of the law firm's experts on U.S. trade sanctions against Iran. "I think everyone's going to be very cautious."
What President Barack Obama called an "historic understanding" with Iran is unlikely to help many U.S. businesses in the foreseeable future, given the powerful constituencies in both countries that still don't trust each other. While the Obama administration may try to free up more trade with Iran in humanitarian sectors such as food, medicine, and health care— and could move to alleviate so-called secondary sanctions against non-U.S. companies that do business with Iran—potential big-ticket deals in energy, aviation, computers, and automobiles will probably have to wait for the Republican-controlled Congress to act.
"Everyone in the U.S. is going to move very slowly on this because no one wants to get sideways on sanctions, particularly with the political situation in Washington these days," Hayes says.
The short-term winners are likely to be European companies, many of which flocked to Tehran on trade missions after the initial framework for nuclear talks was reached in November 2013. The European Union's sanctions against Iran are mostly tied to the nuclear standoff and are likely to be lifted over time if Iran abides by its commitments. U.S. sanctions, meanwhile, are meant to punish an array of alleged misdeeds, including support for terrorism and development of weapons of mass destruction. Adding to the complexity is that some U.S. sanctions were enacted by presidential order and others were passed by Congress, making it hard to determine which President Obama can lift unilaterally and which Congress needs to address.
"I have a 3-foot by 4-foot poster on the wall of my office with every sanction against Iran written out in fine print, and now I'm going to have to go through it and color-code what may become permissible and what's not," says Danforth Newcomb, a international trade lawyer with Shearman & Sterling in New York. "It's becoming more complicated to know what's OK to do with Iran, not less."
U.S. drug makers and health-care companies are likely to see some gain, as they've already had more access to Iran's markets under exceptions to sanctions for humanitarian goods. More than 50 medical companies received sanctions waivers from the U.S. Treasury Department last year to export to Iran, including Boston Scientific, GE Healthcare, and Bausch & Lomb, according to Treasury Department records published by the Wall Street Journal. The problem they've faced is getting paid, particularly after Iranian banks were cut off from the SWIFT global payments system in 2012, according to Caitlin Webber, an analyst with Bloomberg Intelligence. (SWIFT stands for Society for Worldwide Interbank Financial Telecommunication.) From 2012 to 2014, the value of legal U.S. pharmaceuticals exports to Iran fell by more than half.
"There's pent-up demand in Iran for specialty medications for cancer, MS, and blood disorders, because the Iranian pharmaceutical industry can't manufacture those drugs on their own," Webber says.
U.S. oil companies, the industry with the most to gain from access to Iran, will likely have a disadvantage against European companies, including BP, Royal Dutch Shell, Eni, and Total, due to the more-restrictive U.S. sanctions, Bloomberg reported on March 30. Iran holds 10 percent of the world's oil reserves—making it No. 4 globally after Venezuela, Saudi Arabia and Canada—and almost a fifth of gas reserves, second only to Russia. "Iran is the big prize," said Oswald Clint, an oil analyst at Sanford C. Bernstein & Co. "The resource size is very attractive."
After a two-decade hiatus following the Islamic revolution, Tehran tried to lure back foreign oil companies in the early 1990s. It first turned to the U.S., reaching a $1 billion deal in 1995 with Conoco that was almost immediately scrapped under pressure from the White House. After a false start with the American group, Tehran signed several deals with European majors, including Total and Shell.
Before it's here, it's on the Bloomberg Terminal.
LEARN MORE