U.S. Citizens Swept Up in N.Y., Philadelphia Terrorism Arrests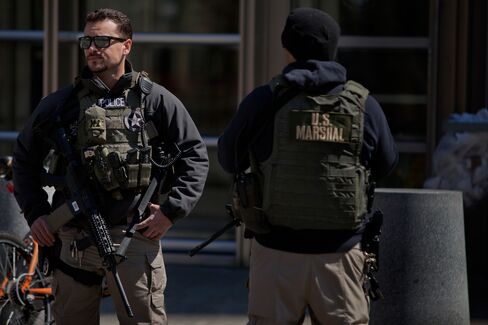 U.S. prosecutors in New York City and Philadelphia charged four people with terrorism-related crimes, including two Queens women who allegedly discussed making bombs with an undercover federal agent.
Noelle Velentzas, 28, and Asia Siddiqui, 31, were accused of conspiring to prepare an explosive device to detonate in the U.S. A Texas man, Muhanad Mahmoud al Farekh, was charged separately with seeking to train alongside Muslim militants who allegedly plotted to attack New York City subways.
"We remain firm in our resolve to hold accountable anyone who would seek to terrorize the American people, whether by traveling abroad to commit attacks overseas or by plotting here at home," Brooklyn U.S. Attorney Loretta Lynch said Thursday in a statement. Lynch was nominated to succeed U.S. Attorney General Eric Holder.
Friday, U.S. prosecutors announced charges against a Philadelphia woman, Keonna Thomas, accused of attempting to join Islamic State. The government said she posted items expressing support for the group on Twitter, and communicated online with a Somalia-based jihadi fighter from Minnesota, a radical Islamic cleric and an ISIS fighter in Syria.
The charges against the four U.S. citizens follow those brought earlier this year against a U.S. Air Force veteran and two Brooklyn roommates over allegations that they tried to join Islamic State. The men, along with a mall kiosk operator who is alleged to have helped fund the roommates' would-be plans, have pleaded not guilty.
Coalition
The U.S. is part of a coalition battling Islamic State, also known as ISIL or ISIS. The group, which has been recruiting young people and westerners through social media and propaganda, "represents an evolving threat to our country and to our allies," Lynch said in a statement in February.
All three of the defendants charged Thursday appeared in Brooklyn federal court. Farekh, bearded and wearing light blue jail garb, said little during the brief proceeding.
When the women appeared, Velentzas, dressed in all-black with her hair covered, loudly said "yes" when U.S. Magistrate Judge Viktor V. Pohorelsky asked if she understood the charges. Siddiqui, wearing a green T-shirt over black clothes with her hair uncovered, spoke more softly when questioned.
Sean Maher, a defense lawyer for both Farekh and Velentzas, declined to comment after the proceedings. Thomas F. X. Dunn, a lawyer for Siddiqui, said outside the courthouse that his client "will enter a plea of not guilty" if she is indicted.
"I know it's a serious case but we're going to fight it out in court," he said.
Prosecutors claimed that the women, U.S. citizens and onetime roommates, discussed violent jihadist views with the undercover officer and, as recently as last year, began researching and discussing plans for an attack in a self-proclaimed effort to "make history."
Islamic State
Velentzas allegedly praised the Sept. 11, 2001, attacks and the 2013 Boston Marathon bombing, and declared that she and Siddiqui were "citizens of the Islamic State." Siddiqui had repeated contact with members of al-Qaeda in the Arabian Peninsula, including propagandist Samir Khan, former editor of Inspire, al-Qaeda's English-language online magazine, the U.S. alleged in court papers.
Khan, who was killed in Yemen in 2011, published articles including "I am proud to be a traitor to America" and "Make a Bomb in the Kitchen of Your Mom," according to prosecutors.
In discussions with the undercover officer last year, the women allegedly said they were learning "science" in order to build a bomb. They later said they were reading technical books and learning about making homemade grenades, pipe bombs and pressure-cooker bombs, the U.S. alleged.
Dark Internet
Velentzas discussed using the "dark Internet" and prepaid phones to help carry out a scheme, and made trips with a group to a Home Depot to examine possible bomb-making items, according to prosecutors.
She also made references to "The Anarchist Cookbook," which contains instructions for making explosives, prosecutors said. The bomb-making discussions continued into this year, prosecutors contend.
Velentzas, who had allegedly made comments about killing police officers and revealed she carried a knife in her bra, had been "obsessed with pressure cookers since the Boston Marathon attacks," Siddiqui told the undercover agent, according to prosecutors.
Siddiqui wrote jihadist poetry with lines about dropping bombs and referred to "nations wiped clean of filthy shrines," according to the government. She obtained multiple propane tanks and had instructions for using them as explosives, prosecutors alleged.
Texas Man
Farekh, who studied at the University of Manitoba in Winnipeg, is accused of leaving the school for Pakistan in 2007, joining others seeking to train for attacks against U.S. military personnel in Afghanistan. He was eventually deported from Pakistan.
An alleged co-conspirator, Ferid Imam, aided a plot to attack the New York City subways, according to the government. That plot was foiled in 2009.
In the Philadelphia case, Thomas, who allegedly went by the name "YoungLioness," was asked by an ISIS fighter if she wanted to be involved in a martyrdom operation. Thomas, 30, responded by stating, "that would be amazing….a girl can only wish," according to the government. She was arrested after purchasing tickets to fly overseas, prosecutors said.
The cases are U.S. v. Velentzas, 15-mj-00303, and USA v. AL Farekh,1:15-mj-00021, U.S. District Court, Eastern District of New York (Brooklyn).
Before it's here, it's on the Bloomberg Terminal.
LEARN MORE