Traders Are Now Expecting the Fed to Raise Rates Later Than Ever Before
Market expectations are for no rate increases from the Federal Reserve before the last week of November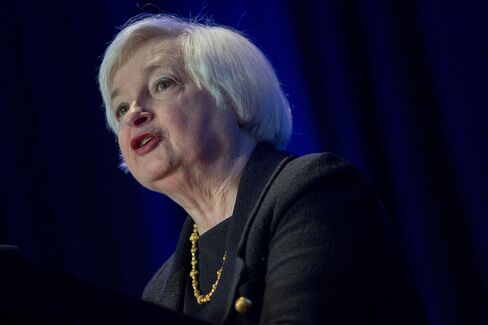 Ahead of the March jobs report, traders are expecting the Federal Reserve to raise interest rates later than ever before.
As of Wednesday's close, Federal funds futures implied liftoff from zero in the final week of November, according to an index maintained by analysts at Morgan Stanley. That's been pushed back from September as of two weeks ago, before the policy-setting Federal Open Market Committee's March meeting.
Why the delay? Fed officials have expressed concern about the effects of the strong dollar, which is weighing on the outlook for economic growth and inflation. Some policy makers also cut their estimates of the unemployment rate below which price increases should accelerate, implying the economy is further away from their goals than previously thought.
Moreover, economists say the pace of job gains -- the U.S. economy has added 275,000 workers each month on average over the past year -- probably needs to come down to reconcile with a slower pace of underlying economic growth.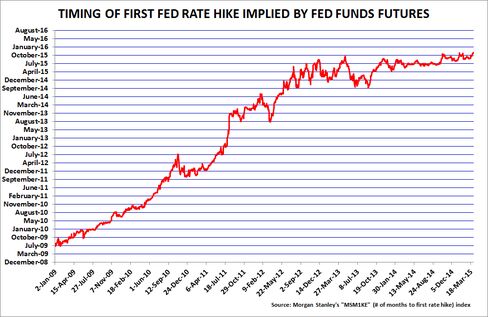 If Friday's report shows job growth in March was as strong as economists surveyed by Bloomberg forecast, investors will probably pull forward their expectation of the first Fed rate increase. The median estimate of the 93 respondents in the Bloomberg survey is 245,000.
Investors currently are probably foreseeing a slightly lower figure, after the weaker-than-expected report from payroll-processing firm ADP released Wednesday (most economists submitted their forecasts to Bloomberg before Wednesday). That report showed private employers added only 189,000 to staff last month.
For Fed watchers, tomorrow's data are especially important in the context of a speech Fed Chair Janet Yellen gave last Friday in San Francisco.
Two weeks ago, after their March meeting, the FOMC released a statement saying "it will be appropriate to raise the target range for the federal funds rate when it has seen further improvement in the labor market and is reasonably confident that inflation will move back to its 2 percent objective over the medium term."
In her speech, Yellen made an important distinction: reasonable confidence in the inflation outlook will largely be informed by continued strong job gains, and not necessarily an actual pickup in price increases or wage growth.
"A substantial body of theory, informed by considerable historical evidence, suggests that inflation will eventually begin to rise as resource utilization continues to tighten," she said. "It is largely for this reason that a significant pickup in incoming readings on core inflation will not be a precondition for me to judge that an initial increase in the federal funds rate would be warranted."
There is one caveat: Yellen added she "would be uncomfortable raising the federal funds rate if readings on wage growth, core consumer prices, and other indicators of underlying inflation pressures were to weaken."
Average hourly earnings for production and nonsupervisory workers, who comprise around 80 percent of the U.S. labor force, were up only 1.6 percent in February from a year earlier, down from a 2.5 percent increase in the 12 months through August of last year. The deceleration is a bit of a puzzle, and many expect this trend to soon reverse, as Yellen suggested it should.
If tomorrow's report shows the economy keeps cranking out jobs and wage growth hasn't decelerated further, some of the upcoming FOMC meetings that have been discounted by market participants as too soon to begin raising rates -- June, July, and September -- could get another look from traders and policy makers alike.
Before it's here, it's on the Bloomberg Terminal.
LEARN MORE