Flying
Pilots Find Plenty to Hate in Allegiant's Low-Cost Business Model
A rare strike is blocked at the last minute—the last one was in 2010 at no-frills carrier Spirit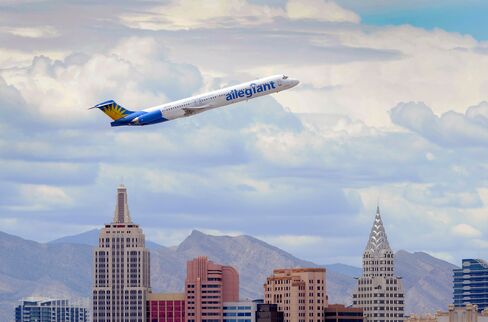 Pilots at the lowest of the low-cost U.S. airlines are fuming over a two-year contract struggle with Allegiant Travel they say exposes abuses of the no-frills model, including overworked, underpaid staff and lax maintenance practices.
A rare pilots strike the union had called for early today fizzled when Allegiant, based in Las Vegas, won a temporary restraining order. The airline had filed a lawsuit against the pilots' union, the International Brotherhood of Teamsters, on March 30 seeking the restraining order and asking that its pilots be barred from staging a "sick-out, slow-down, work-to-rule campaign" or any other actions that could foul up Allegiant's operations.
The strike would have affected as many as 250 flights and 33,000 passengers, according to a statement from the union. "Striking is a last resort, but we cannot continue to stand by a company that [flouts] the law by robbing the pilots of legally protected rights and benefits," Allegiant pilot Tom Pozdro said in the statement.
Allegiant, which flies between leisure spots in Florida and the Southwest to 89 mostly smaller cities, such as Bangor, Me., and Peoria, Ill., has been in mediation with its pilots since April 2014; another session is scheduled at the National Mediation Board on April 29. The union says Allegiant used pending changes in U.S. rules on rest periods for pilots to launch a pilot-scheduling system in 2013 they don't like, along with other work-rule changes they say hurt them. They say the scheduling system often leaves the airline's 500 pilots fatigued and away from home for extended periods.
On top of that, the slow pace of talks has frustrated the pilots and left them ready to strike over the Easter holiday, generally a busy period for domestic airline travel. In January, 98 percent of the pilots authorized the strike.
The discord reached a new level this week when the union warned in a letter to "Allegiant Air Passengers" that the carrier's profits "are propped up by the extra workload placed on its understaffed, underpaid and overworked workforce and its minimalist approach to maintenance and safety." For example, the pilots claim that Allegiant is forced to "cannibalize" parts from other planes in its fleet to fix aircraft, owing to a deficient system of maintenance. (The letter failed to note that if a pilot considered a particular airplane unsafe, he or she almost certainly wouldn't fly it.)
The business model of budget airlines such as Allegiant, Ryanair Holdings, and Spirit Airlines has proved financially successful around the world, but only because of those carriers' relentless focus on keeping costs as low as possible. That keeps their fares lower than those of rivals that offer frills, but it also can lead to hostility between the airlines and their labor unions. Ryanair, for instance, has skirmished with unions for years even as it has become one of Europe's largest carriers.
The Teamsters say Allegiant management violated terms of the Railway Labor Act—which covers airline unions—requiring that the status quo be maintained during contract talks when it installed the new scheduling software in May 2013. A federal judge agreed but didn't require a return to the old system, which couldn't accommodate new U.S. regulations that took effect in January 2014. (Allegiant's appeal of that ruling is pending.)
As a result, the pilots say, they are permitted to strike. Allegiant says it has complied with the judge's ruling and that the pilots have no legal basis for a strike.
Allegiant is "committed to negotiating a contract with our pilots" but is troubled by the union's "scare tactics, including manipulating facts in an attempt to manipulate our customers," Chief Operating Officer Steve Harfst said in a statement.
A contract with the pilots is expected to add $13 million to costs in 2016 and "would align Allegiant's pilot costs with the industry average," Raymond James analyst Savanthi Syth wrote in a March 16 note to clients.
In a January earnings call with analysts, as the price of crude oil was reaching new lows, Allegiant Chief Executive Maurice "Maury" Gallagher noted "good times for everybody" in the airline industry and said his company wanted to get a deal with its pilots.
"There's been some posturing by us and by the Teamsters. I'm not going to sit here and say otherwise," Gallagher said on the call. "But we've committed to getting things moving along. We want to get our guys and ladies—they want a contract and we would too. Certainly all this rhetoric and histrionics is distractive to both of us."
The temporary restraining order preventing the strike will only "delay the inevitable," Daniel Wells, president of Teamsters Local 1224, said before the order was issued Wednesday evening by a federal court in Las Vegas. As for the contract talks, he said there has been progress on only two of 31 sections of a contract and that Allegiant is trying to prevent its pilots from collective bargaining. Gallagher said in January that Allegiant wants to have a contract with pilots "put to bed" as soon as possible.
Strikes by U.S. airline pilots are rare—and can lead to presidential intervention to stop them—owing to the impact an airline can have on national commerce. The last major U.S. strike was in June 2010, when Spirit Airlines' 2,600 pilots walked off the job for five days. Likewise, JetBlue Airways' 2,600 pilots began three days of contract negotiations with the airline this week, 11 months after voting to join the Air Line Pilots Association.
In the Spirit strike, however, mediators had released both sides from negotiations, and a 30-day "cooling off" period outlined by the Railway Labor Act had ended. The mediation board has not ended the current Allegiant talks.
The pilots also say Allegiant's schedule is prone to frequent delays because of mechanical problems with a fleet of mostly older McDonnell-Douglas MD-80s and an inadequate information-technology infrastructure. In the earnings call, Gallagher said staffing levels and IT are two areas the company is working to address.
"Maybe a good analogy is we're still in short pants and trying to become the adult as we go into our 13th or 14th year here," he said. "And we'll get a lot of these things cleaned up that we were a little rough around the edges on."
Before it's here, it's on the Bloomberg Terminal.
LEARN MORE