Industrial Stocks Near Trend Break as Low U.S. Rates End Rallies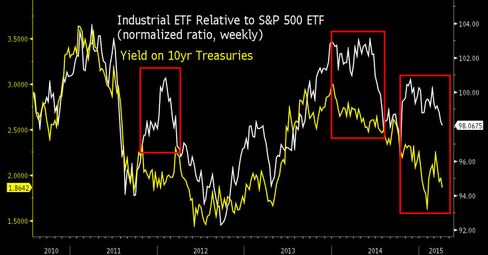 An exchange-traded fund of industrial stocks is nearing a technical support level as interest rates fall, signaling the ETF's underperformance could continue.
The Industrial Select Sector SPDR Fund has lagged behind the SPDR Standard & Poor's 500 ETF by 3 percentage points since Nov. 25 as this stock price ratio has decreased each month this year. During the same time, the yield on 10-year Treasuries has fallen to 1.86 percent from 2.26 percent -- see chart.
The industrial ETF -- which includes Emerson Electric Co., Parker Hannifin Corp. and more than 60 other companies -- closed at $55.40 April 1 and the benchmark ETF was at $205.70.
"If the fund breaks the long-term uptrend relative to the broader market, this would be a bearish sign and may prompt additional selling," said Jim Stellakis, founder and director of research at Technical Alpha Inc. in Greenwich, Connecticut -- see chart.
The yield on 10-year Treasuries and the fund's relative performance have tracked each other because rising rates usually signal improving gross domestic product, which benefits this economically sensitive ETF.
Equity investors who see more declines for the industrial ETF are looking to their Treasury-trading counterparts for confirmation of their outlook, according to Stellakis. When relative price gains in the fund aren't accompanied by a rise in interest rates, rallies have been unsustainable, with the ratio dropping back down to realign with lower yields, he said.
Measures of U.S. growth, such as personal-consumption expenditures, are showing weakness, so "we remain trapped in a low interest-rate environment," said Lance Roberts, who helps oversee $600 million as chief strategist for STA Wealth Management in Houston.
A barometer Roberts created -- which includes the Institute for Supply Management's composite index and the Chicago Fed National Activity Index -- shows the pace of economic growth deteriorating during the first quarter and now at a level that historically has been associated with "extremely weak" economic activity -- see chart.
- The ISM's manufacturing index declined to 51.5 in March from 52.9 a month earlier. Readings above 50 indicate expansion.
- The U.S. economy grew at a 2.2 percent annualized rate in the January-March quarter, according to the median forecast of economists surveyed by Bloomberg -- see chart. The estimate was 2.9 percent on Nov. 25.
- Advance data for the first quarter are scheduled for release April 29.
Traders who are bullish about industrial stocks should be mindful of the weakening U.S. outlook, Roberts said. That's because declining interest rates are a "wet blanket" for the economically sensitive ETF.
Falling oil prices still could improve the profitability for some companies; U.S. benchmark West Texas Intermediate crude oil is down about 34 percent since mid-November. With little evidence of a pick-up in the economy and interest rates still near historic lows, though, there's more of a bear case for industrial stocks, Roberts said.
"Low interest rates are the best indicator of economic activity."
Before it's here, it's on the Bloomberg Terminal.
LEARN MORE