After Nigeria Election Win, Buhari Targets Boko Haram, Graft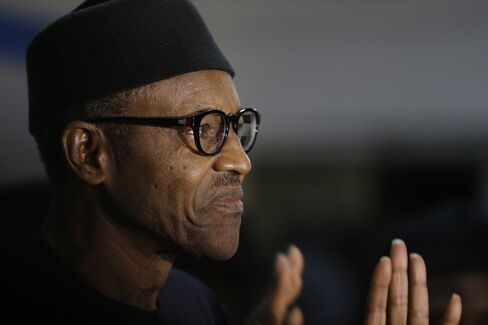 A day after winning Nigeria's presidency, Muhammadu Buhari confirmed his reputation as a tough-talking former military ruler, saying his government would target the Islamist militant group Boko Haram and officials who plunder state funds.
"Boko Haram will soon know the strength of our collective will and commitment to rid this nation of terror," Buhari said in a speech on Wednesday in Abuja, the capital. "Furthermore, we shall strongly battle another form of evil that is even worse than terrorism, the evil of corruption."
In his previous incarnation as a military ruler in 1983-85, Buhari instituted a "War Against Indiscipline" that clamped down on corruption and jailed politicians, businessmen and journalists. Now he calls himself a "converted democrat" and denies he was responsible for human rights abuses.
Wole Soyinka, Nigeria's most famous poet and playwright and winner of the Nobel prize for literature, said he takes Buhari at his word.
"I believe he's going to do much better than he did before," Soyinka said in an interview with Bloomberg TV Africa at his home in Abeokuta on Wednesday. He is "a man of principle, there's no doubt about that. Against my rational instincts, I believe that we have here a genuine case of a born-again democrat. I have this feeling that Buhari wants to make up for his past stint in government. He feels he owes Nigerians and that's a good thing."
Presidential Campaigns
Buhari mounted three unsuccessful presidential campaigns before winning under the banner of the All Progressives Congress, a coalition of the main opposition parties that drew support across religious and ethnic divides.
He won 52.4 percent of ballots cast in a March 28-29 vote to unseat President Goodluck Jonathan and his People's Democratic Party, the first lawful transition of power since British colonial rule ended in 1960. Buhari's inauguration is scheduled for May 29.
"We must forget our old battles and past grievances and learn to forge ahead," said Buhari. "I assure you that our government is one that will listen to and embrace all. I pledge myself and our incoming administration to just and principled governance. I harbor no ill will against anyone."
A Muslim from the town of Daura in the northern state of Katsina, Buhari joined the military after secondary school and attended the U.S. Army War College.
Boko Haram
He's pledged to re-equip the military and increase cooperation with armies from neighboring Chad, Niger and Cameroon, that in recent weeks have helped to drive the rebels out of territory they had held for months.
It was against the Chadian army that Buhari won his reputation as an effective military commander. In 1983, after Chad annexed some Nigerian islands in Lake Chad, Buhari led forces that drove out the intruders.
Despite recent setbacks, Boko Haram remains a major threat, according to Martin Ewi, a researcher at South Africa's Institute for Security Studies.
"They still have a huge number of militants that can come back to cause serious problems," Ewi said by phone from Pretoria, the South African capital.
Buhari has felt the violence first hand. In July, he escaped unharmed from attacks on his convoy in the northern city of Kaduna that the government described as an assassination attempt and analysts said was probably carried out by Boko Haram.
Corruption 'Evil'
Rooting out the other "evil" Buhari mentioned, corruption, will also be a daunting challenge, said Thomas Horn Hansen, an Africa analyst at Control Risks in London. Nigeria ranked 136th out of 175 countries in Transparency International's 2014 Corruption Perceptions Index, in joint place with Russia and Iran.
"We will likely see some upheaval in Nigeria's political and business elite as Buhari, judging from his past record, has limited tolerance for perceived impropriety," Hansen said in an e-mailed response to questions. "It is nonetheless dangerous to assume that Buhari's victory signals a fundamental change in the nature of Nigeria's political system, as Buhari also relies on political support from big men in the APC who have the same interests as those in the PDP."
Buhari's other campaign pledges included targeting an economic growth rate of 10 percent and creating 1 million jobs annually and the same number of new home owners within a year. His prospects of meeting those goals have been dimmed by a 50 percent plunge in the price of Brent crude, the source of more than two-thirds of government revenue, since the end of June.
Economic Growth
"Buhari will do well on the economy because he is a serious person, he is not corrupt," Tam David-West, a professor who served as oil minister in Buhari's government, said by phone from Port Harcourt. "Economic management has to do with commitment, confidence and dedication."
Kemi Okenyodo, executive director of the CLEEN Foundation, which promotes public safety and justice, expects Buhari to try and live up to his campaign promises.
"I have confidence in him," Okenyodo said by phone from Abuja on Wednesday. "He has a wide range of experience. He is not opulent, he only has one house. Of all our past leaders, he is the only one that has not enriched himself in a manner that is unreasonable."
(A previous version of this story corrected the name of Buhari's anti-graft campaign.)
Before it's here, it's on the Bloomberg Terminal.
LEARN MORE